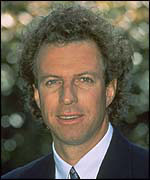 BOBBY CLAMPETT
(CBS Sports Broadcaster)
Bobby Clampett joined CBS Sports in 1991 as a course reporter for the CBS Television Network's broadcast of the PGA Championship. He is now a full-time member of the CBS golf team, having retired from the PGA TOUR in 1995.
Clampett, a regular on the PGA TOUR from 1980 to 1995, earned more than $1 million during that time. His best finish came in 1981, when he was 17th in earnings. He won the 1982 Southern Open and in 1984 was the youngest player to earn more than $500,000. One of his most memorable rounds of championship golf was played at the 100th U.S. Open in 2001. He qualified as a fourth alternate to play on his home course, Pebble Beach, where he shot a 3-under-par 68 in the first round, three strokes behind leader and eventual winner Tiger Woods.
Clampett was a three-time First-Team All-America (1978-80) and two-time Collegiate Golfer of the Year at Brigham Young University.
He was born April 22, 1960, in Monterey, Calif., and lives in Cary, N.C., with his wife Marianna. Together they have five children.