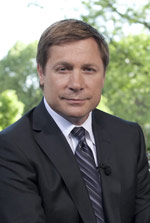 BILL MACATEE
Play-by-Play Announcer
THE NFL ON CBS, US Open Tennis, Golf
Bill Macatee joined CBS Sports in 1995 and has handled NFL play-by-play at the network for more than a decade. Macatee also continues to play a major role, not only for CBS Sports' golf coverage, including the Masters and the PGA Championship, but also for the U.S. Open Tennis Championships and a variety of CBS SPORTS SPECTACULAR events including skiing, figure skating, track and field and the ATP Tennis Tour. Macatee has shown his versatility by serving as a weekend co-anchor for the 1998 Olympic Winter Games on CBS and as a play-by-play announcer for the network's coverage of college basketball including the NCAA Tournament and the Division II National Championship game. Additionally, Macatee was the studio anchor for Daytime coverage of the 2006 Olympic Winter Games on USA Network. He is the only broadcaster in the industry who currently announces two of the most prestigious events in sports, the Masters and Wimbledon.
Macatee began his network career with NBC at the age of 26. There, he covered a variety of major events, including the World Series, the Super Bowl, Wimbledon and various college bowl games. He also spent four years as host of NBC's Major League Baseball Game of the Week pre-game show, as well as serving as Pre-game host for NBC's primetime coverage of Major League Baseball's League Championship Series.
During his time at NBC, Macatee was also the sports correspondent for "The Today Show", as well as sports anchor for "NBC News at Sunrise" and "Sunday Today." Later, he moved away from sports, serving as co-anchor for the syndicated show "USA Today on TV."
Beginning in 1990, Macatee anchored coverage of the PGA TOUR on USA Network. He hosted the opening rounds of the Masters for almost 20 years and every Ryder Cup from 1991 to 2006. During his years at USA Network, Macatee's duties included play-by-play for golf, Grand Slam tennis events as well as figure skating, boxing and other selected sports specials.
Macatee currently has a prominent role on cable's Tennis Channel where he serves as host and producer for the network's Primetime coverage of Wimbledon and the French Open, as well as lead play-by-play announcer for the United States and Australian Opens.
Macatee earned a Bachelor of Science degree from Lamar University and currently serves on the Advisory Board for Lamar's College of Fine Arts. Macatee received Lamar University's Distinguished Alumni Award in 2011. He also has served as an Adjunct Professor, teaching Sports Media, at Chapman University in Southern California. Macatee was born in Rome, N.Y., and has one daughter, Caitlin. He now lives in Dallas, Texas.