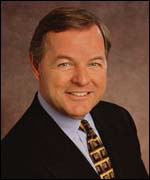 BOB WENZEL
(CBS Sports Analyst)
Bob Wenzel is in his ninth year as an analyst for CBS Sports' NCAA Men's Basketball Championship coverage. He joined CBS Sports' NCAA Men's Basketball Championship coverage in 2001 as a reporter. He has called the Final Four and Championship for the CBS world feed from 2002-04. Wenzel has called regular-season games for ESPN since the 1997-98 season and contributes reports for ESPN Radio in Jacksonville, Fla. Wenzel was a basketball coach for 26 years, including serving as the head coach for Rutgers University for nine seasons from 1989-97 where he guided them to the Atlantic 10 Championship in 1989 and 1991, two NCAA and two NIT appearances.
He coached Jacksonville University for six seasons from 1982-87 where he led them to one NCAA and one NIT appearance. Wenzel was named 1988-89 Atlantic 10 Coach of the Year and 1986 Coach of the Year in Florida by the Florida Sportswriters Association. He served as an assistant coach for the NBA's New Jersey Nets in 1988. His other coaching credentials include, graduate assistant at Utah (1971-72), assistant coach at Yale (1973-74), Duke (1975-80), where he helped lead the team to the Final Four and Championship in 1978, and South Carolina (1980-81).
During his 1985-86 coaching campaign he suffered a life threatening cerebral aneurysm and received the United States Basketball Writers Association's Most Courageous Award for returning to the sidelines. Wenzel earned a degree in history in 1971 from Rutgers University, where he began his collegiate career playing for Jim Valvano's freshman squad. He was a two-year captain and MVP at Rutgers in 1970 and 1971. Wenzel received his master's degree in Education from Utah in 1973. He was born Oct. 4, 1949 in the Bronx and currently lives in Ponte Vedra, Fla. with his wife, Neva, and three children.