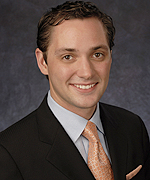 CARTER BLACKBURN
Play-by-Play Announcer
NCAA Men's Basketball
Carter Blackburn is in his second year as play-by-play announcer for CBS Sports' NCAA Men's Basketball Championship coverage. Blackburn has called regular-season basketball games for CBS Sports for the past two years. Blackburn, has served as play-by-play announcer for CBS College Sports Network since 2003, calling college football, college basketball and college baseball, as well as other events for the network.
In 2008, he served as host for CBS College Sports Network's Final Four coverage from San Antonio. Prior to joining CBS College Sports Network, Blackburn worked for ISP Sports and Fox Sports South in Winston-Salem, handling a variety of radio and television duties. A native of Kerrville, Texas, Blackburn began his broadcasting career at an early age, announcing Tivy High School games on local radio station KERV, by the time he was 17.
Blackburn graduated from Syracuse University in 2001 and served as play-by-play announcer for football, basketball and lacrosse broadcasts on WAER-AM and Syracuse University Radio Network. Carter currently resides in Austin, Texas with is wife Karen.