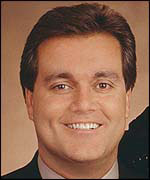 CRAIG BOLERJACK
Play-by-Play Announcer
THE NFL ON CBS
Craig Bolerjack joined CBS Sports in 1998 as a college football and NFL play-by-play announcer. This is his tenth year calling play-by-play for CBS Sports' NCAA Men's Basketball Championship coverage. He called CBS Sports' HDTV coverage of the NFL in 1998 and also had hosted CBS Sports' SPORTSDESK wrap-around studio show and AT THE HALF, CBS Sports' college basketball halftime studio show. Bolerjack has served as play-by-play announcer for the Division II men's basketball championships since 2002.
This year marks his fourth year as play-by-play announcer for the NBA's Utah Jazz. He has served as the play-by-play announcer for the 2001 NCAA Women's Gymnastic Championships and covered play-by-play for the 2001 U.S. Freestyle Ski Championships. Bolerjack came to CBS from ESPN where he was a college basketball play-by-play commentator (1991-98) and added college football duties in 1994. Bolerjack's credits at ESPN include the NIT, NCAA Women's Basketball Championship, Arena Football, as well as the Liberty and Independence Bowl games. Prior to ESPN, he served as the sports anchor for KSL-TV in Salt Lake City (1985-98).
Bolerjack began his broadcasting career in 1981 at KTSB-TV in Topeka, Kan., as a weekend anchor and then moved to KSNW-TV in Wichita, Kan. the following year. Bolerjack is a 1981 Kansas State graduate with a degree in broadcast journalism and marketing. He was born May 16, 1958, in Willow Springs, Mo. and grew up in Kansas City. Currently, he lives in Salt Lake City with his wife, Sharon, and three children.