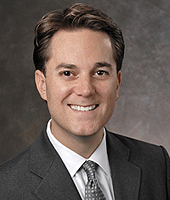 DAVID BERSON
President
CBS Sports
David Berson was named President, CBS Sports in June 2013. He joined CBS Sports in January 2011 as Executive Vice President, CBS Sports and President, CBS Sports Network after 16 years at ESPN, where he began his career as an intern during college and later worked in various capacities in programming, affiliate sales and marketing and business development.
Since joining CBS Sports, Berson has spearheaded CBS Sports Network's rebrand (previously CBS College Sports Network), more closely aligning the cable network with CBS Sports and its assets. Under his leadership, the Network has increased its distribution by more than 25 percent and earned its first-ever Emmy Award in 2012. In addition, Berson significantly bolstered the Network's programming, more than doubling the number of live hours, while launching numerous shows such as NFL MONDAY QB, the first NFL programming to be featured on the Network, ROME and LEAD OFF. Berson also added new programming for CBS Sports Network around CBS Sports' major events including Super Bowl XLVII, the NCAA Final Four, Masters®, PGA Championship and U.S. Open Tennis Championships. Under Berson's leadership, CBS Sports Network officially became the new television home of Professional Bull Riders (PBR) in January 2012. Berson also was instrumental in bringing popular sports personalities Jim Rome and Doug Gottlieb to the CBS Sports family and launching the weekday TIM BRANDO SHOW. In February 2013, Berson was instrumental in establishing CBS Super Bowl Park at Jackson Square, which was home to 15 different shows from nine CBS divisions across multiple platforms all week long leading up to Super Bowl XLVII, including CBS Sports Network's first-ever Super Bowl programming.
Prior to joining CBS Sports, Berson co-ran ESPN's programming department and was responsible for programming strategy, scheduling, development and driving audience consumption for all of ESPN's domestic television networks (ESPN, ESPN2, ESPNEWS, ESPN Classic, ESPNU, ESPN Deportes, ABC Sports) as well as for ESPN's digital media platforms (ESPN3.com and ESPN Mobile TV). He also had responsibility for developing, launching and managing new businesses, including ESPNU, and ESPN's emerging high school sports business.
Berson led the programming group through a dynamic period at ESPN and ABC, including the launch of numerous additional networks and multimedia products. Since 2001 when he took over responsibility for programming scheduling and strategy, ESPN networks set record audience levels each year and, in an era of rapid media industry change and proliferation of consumer entertainment options, ESPN ratings grew 34 percent.
In January 2006, The Sporting News listed Berson, then 33, on its annual list of "Young & Powerful." In 2007, 2008 and 2009, he was selected as a SportsBusiness Journal "Forty Under 40" recipient and named as a "Forty Under 40 Hall of Famer." In 2007 and 2008, he was listed on BusinessWeek's "The Power 100" ranking of the 100 most powerful people in sports.
He is a graduate of the University of Michigan (B.A. in communications / business).