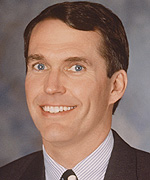 DAN BONNER
(CBS Sports Analyst)
This is Dan Bonner's 20th year as an analyst for CBS Sports' NCAA Men's Basketball Championship coverage. In 2006, he served as reporter for the Final Four and Championship games. He served as an analyst for CBS Sports' coverage of the 2000 and 2001 Final Four and Championship games in HDTV.
He also serves as an analyst for regular-season college basketball games for CBS Sports and Fox Sports Net and has called ACC games for Raycom Sports since 1983. In addition, he has called the NCAA Division II Men's Basketball Championship nine times for CBS Sports. Bonner also filled that role for NCAA Productions' broadcasts of tournament games from 1985-90. From 2004-07 he served as the assistant athletic director and assistant girls' soccer coach for Robert E. Lee High School, having previously coached the girls' basketball team from 1999 to 2003.
He was named the Virginia Group AA Coach of the Year for the 2002-03 season. Bonner played for the University of Virginia (1971-75). In 1975, he captained the team and was named Academic All-ACC. He coached the Virginia women's basketball team from 1975-77. Bonner lives in Staunton, Va., with his wife, Terry, and three children, Coleman, Keary and Sarah.