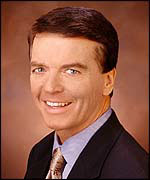 DON CRIQUI
Play-by-Play Announcer
THE NFL ON CBS
Don Criqui rejoined CBS Sports as part of the CBS Television Network's National Football League broadcast team as a play-by-play announcer in 1998. Criqui, who previously worked for CBS Sports for 12 years, returned to the Network after working for NBC Sports for 19 years. This year he will call Notre Dame football games for ISP Sports during the 2008 season and will call pre-season games for the New England Patriots for his 15th year. In August 2003, he was enshrined into the Pro Football Hall of Fame as the recipient of the Pete Rozelle Radio-Television Award.
Criqui first joined CBS Sports in 1967 as a play-by-play announcer, and was partnered with Hall of Fame players Frank Gifford, Norm Van Brocklin and Sonny Jurgensen on NFL broadcasts. He also handled play-by-play duties for CBS Sports' coverage of the NBA and college basketball, track and field, horse racing, figure skating, gymnastics and swimming and diving.
The versatile Criqui joined NBC Sports as a football play-by-play announcer in 1979. In 1992, he served as host of NBC/Cablevision's pay-per-view coverage of the Summer Olympics from Barcelona. In addition, he called Notre Dame football, NBA, golf, auto racing and the Orange Bowl 14 times. Criqui has also hosted Wimbledon and World Cup soccer and called play-by-play for NBC Radio's coverage of the NFL and Super Bowl XX and XXI. In 1988, he called the swimming events for NBC's coverage of the Seoul Olympics.
He is widely known for his roles for many years on two of America's most popular radio programs, "Rambling with Gambling" on WOR (N.Y.) and with "Imus in the Morning." Criqui also had been heard nationally on the Westwood Radio Network's "Don Criqui on Sports" and had been a co-host of King World's Inside Edition Weekend for nine years.
CriquiÕs first professional assignment was working as sports director for WSBT-TV South Bend, Ind. He moved to New York and began working for WCBS-TV. Criqui earned his bachelorÕs degree in arts and letters from the University of Notre Dame. He was born in Buffalo, N.Y., and lives with his wife, Molly. They are the proud parents of four sons and one daughter, and grandparents to 12 grandchildren.