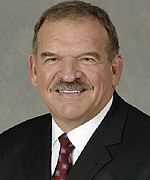 DAN DIERDORF
Analyst
THE NFL ON CBS
Dan Dierdorf returned to CBS Sports in 1999 as a game analyst for the CBS Television Network's coverage of THE NFL ON CBS after having served as an analyst for ABC Sports' "Monday Night Football" for 12 years. Dierdorf was inducted into the Pro Football Hall of Fame in 1996. He was the 2008 recipient of the Pro Football Hall of Fame's Pete Rozelle Radio-Television
Award, given annually by the Pro Football Hall of Fame to recognize "long-time exceptional contributions to radio and television in professional football." Dierdorf joins Frank Gifford and John Madden as the only members of the Pro Football Hall of Fame to also have won the Rozelle Award. He once again will team with Greg Gumbel for the 2012 NFL ON CBS season. This season marks his 42nd consecutive year in the NFL – 13 he spent as a player, 29 as a broadcaster.
The former NFL All-Pro tackle had been a play-by-play announcer for CBS Sports' NFL broadcasts in 1985 before switching to color analysis in 1986. He is a three-time Emmy Award nominee (1987, 1988 and 1989) as Outstanding Sports Analyst.
For nine years, Dierdorf was blow-by-blow announcer for ABC Sports' coverage of boxing. His extensive broadcasting experience also includes serving for 16 years as sportscaster for KMOX Radio in St. Louis in a variety of capacities.
In 1984, he served as color analyst for KMOX Radio's coverage of the St. Louis Cardinals, announced NFL games for the CBS Radio Network and provided color commentary for radio broadcasts of the NHL's St. Louis Blues. Dierdorf also served as sports director for KMOV-TV St. Louis.
During a 13-year career with the St. Louis Cardinals (1971-1983), Dierdorf was named All-Pro six times, was selected as the NFL's top offensive lineman three times and was voted to the NFL Team of the Decade for the 1970s.
He was a two-time All-Big Ten tackle at the University of Michigan, where he was inducted into the school's Hall of Fame and named to seven All-American teams as a senior. Dierdorf was inducted into the College Football Hall of Fame in 2000. He also was inducted into the State of Missouri Hall of Fame. In 2001, he was inducted into the State of Michigan Sports Hall of Fame.
On Oct. 16, 2006, Dierdorf was inducted into the Arizona Cardinals' "Ring of Honor" during halftime of the Phoenix Cardinals-Chicago Bears Monday night game. That honor makes him one of only a few people in the NFL to be honored in two different teams' "Ring of Honor" as he is recognized by the St. Louis Rams for the years he played in St. Louis with the Cardinals.
Dierdorf has served for 27 years on the board of trustees of Cardinal Glennon Children's Hospital in St. Louis, which includes an emergency and trauma center named in his honor.
In August 2005, Dierdorf was appointed by the Governor of Missouri, Matt Blunt, to be Chairman of the St. Louis Convention and Visitors Commission, in which he served a three-year term. In addition to promoting tourism, he is responsible for overseeing the operation of the St. Louis Convention Center and Edward Jones Dome, home of the St. Louis Rams.
Dierdorf was born on June 29, 1949, in Canton, Ohio. He and his wife, Debbie, live in St. Louis and are the parents of four children.