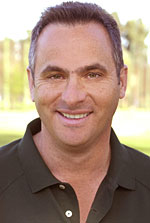 DAVID FEHERTY
CBS Sports On-Course Golf Reporter
One of the most charismatic players in golf, David Feherty joined CBS Sports full-time in 1997 after having served as an analyst for the Network's coverage of several events in 1996, including the PGA Championship, Presidents Cup and Doral-Ryder Open. He and Gary McCord hosted CBS Sports' offbeat, critically-acclaimed LATE NIGHT highlight shows for several PGA TOUR events from 1999-2006.
Born and raised in Bangor, Northern Ireland, Feherty has represented Ireland several times, captaining them to victory in the 1990 Alfred Dunhill Cup. He also played for Europe in the 1991 Ryder Cup. Once a regular on The European Tour, Feherty's victories included: the ICI International, Italian Open, Scottish Open, South Africa PGA, BMW Open, Cannes Open, Bell's Cup and Madrid Open. He retired from both The European Tour and the PGA TOUR in 1997.
Feherty, who became a United States citizen in February 2010, devotes himself to the "Troops First Foundation." The Foundation inspired him to create the "Feherty's IED" (Improvised Explosive Day) of Golf, Cycling, Pheasant Hunting and Skiing events for wounded warriors.
Feherty is the author of The New York Times bestsellers, A Nasty Bit of Rough, Somewhere in Ireland a Village is Missing an Idiot, David Feherty's Totally Subjective History of the Ryder Cup, An Idiot for All Seasons, and most recently, The Power of Positive Idiocy. His "Sidespin" column is one of the most popular features in Golf Magazine. In addition, he answers questions for Golfonline's "Mailbag Column" and provides commentary for the EA Sports video game, Tiger Woods PGA TOUR. Feherty also hosts his own weekly interview show on Golf Channel titled, "Feherty". Born Aug. 13, 1958, Feherty resides in Dallas, Texas, with his wife, Anita, and five children.