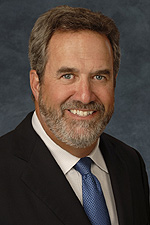 DAN FOUTS
Analyst
THE NFL ON CBS
Dan Fouts, NFL Hall of Famer and former All-Pro quarterback with the San Diego Chargers, returned to CBS Sports as an analyst for THE NFL ON CBS in August 2008.
Fouts returned to CBS Sports where he served as an analyst for the Network's coverage of THE NFL ON CBS from 1988-1993. During those years, Fouts primarily teamed with Dick Stockton and Verne Lundquist in calling games. Once again this year he will team with Ian Eagle after teaming with Dick Enberg in 2009. Additionally, Fouts will again serve as radio analyst for selected games of Westwood One's coverage of Monday Night Football and the NFL Playoffs this season. And he will call play-by-play for Chargers' pre-season games on CBS's San Diego affiliate, KFMB.
Before his return to CBS Sports, Fouts worked for ABC Sports from 1997 to 2008 working as an analyst alongside Keith Jackson. He most recently served as play-by-play announcer for ABC's coverage of Pac-10 college football (2006-2007). Before that, Fouts spent two years working with Al Michaels and Dennis Miller as an analyst on ABC's "Monday Night Football" before returning to the calling college games.
Fouts' 23-year broadcasting credits include covering the Super Bowl, the Pro Bowl, the Rose Bowl, the Sugar Bowl, the Aloha Bowl, ABC's Superstars, NFL's "Air it Out," ABC's "Battle of the Gridiron Greats," "John Madden's Super Bowl Special" and the NFL Playoffs. In 1998, he made his big-screen debut when he and partner Brent Musburger portrayed themselves in the hit film "The Waterboy," starring Adam Sandler.
Before joining ABC Sports in 1997, Fouts served for three years as sports anchor for KPIX-TV in San Francisco, where his work earned him two local Emmy Awards. In addition to his nightly sports reports, he anchored the "Bay to Breakers" and the San Francisco Marathon, and was host of the popular "Hidden Hikes" series. Fouts also hosted his own Sunday night show, "Game Day with Dan Fouts," and handled play-by-play for the San Francisco 49ers pre-season games. He also has done play-by-play for the San Diego Chargers pre-season broadcasts.
Fouts retired from the NFL after 15 seasons with the Chargers, where he was a six-time Pro Bowl selection. His years as pilot of the "Air Coryell" offense – named for the innovative passing game developed by his renowned head coach, Don Coryell – led to 42 team records and eight NFL records upon his retirement, including most 300-yard passing games. His 43,040 total passing yards made him the second-most-prolific passer in NFL history. He earned NFL and AFC Player of the Year honors in 1982, and was named AFC Most Valuable Player in 1979 and league co-MVP in 1982. He was inducted into the Pro Football Hall of Fame in 1993, after being elected in his first year of eligibility.
A native of San Francisco, Fouts first gained national attention as a record-setting quarterback for the Ducks at the University of Oregon, where he and teammate Ahmad Rashad played under future NFL coaches George Seifert and John Robinson. He was elected to the university's Hall of Fame in 1992 and named Alumni Man of the Year in 1993. Drafted by the San Diego Chargers in 1973, Fouts began his rookie season alongside the legendary Johnny Unitas, who had left the Baltimore Colts and was playing in his final year in the NFL. By the late 1970s, Fouts had become one of the top quarterbacks in the league.
Fouts was among the first athletes signed to endorse Nike products in the late 1970s and, in 1990, was honored by the company when they named a building after him at the Nike World Headquarters Walk of Fame in Beaverton, Ore. Other honors he has received include being named to the San Diego Hall of Champions Hall of Fame in 1989, State of Oregon Sports Hall of Fame in 1992, and San Francisco Bay Area 1997 Sports Hall of Fame.
Dan is the proud father of Dominic, Suzanne, Ryan and Shannon, and grandfather of Lily. He and his wife, Jeri, reside in Sisters, Ore.