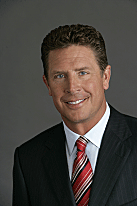 DAN MARINO
Analyst
THE NFL TODAY
Pro-Football Hall of Fame and former Miami Dolphins quarterback Dan Marino joined CBS Sports in February 2002 as a studio analyst for the CBS Television Network's NFL pre-game show, THE NFL TODAY.
A first-round draft pick by the Miami Dolphins in 1983, Marino became an instant NFL sensation, setting the standard for quarterback excellence. He became the only rookie quarterback ever to start in the Pro Bowl (1983) and was named the NFL's Most Valuable Player in his second season (1984). The nine-time Pro Bowler (1983-1987, 1991-1992, 1994-1995) played in 18 playoff games and led the Dolphins to the Super Bowl in 1985 against San Francisco. He won the Dolphins' MVP Award 12 times, and the team has since named the award after him. In the 1984 season alone, he completed an incredible 48 touchdown passes and had the most prolific season by a passer in NFL history, with 5,084 yards.
Upon retirement, Dan held 25 NFL regular-season quarterback records and was tied for five others. He also quarterbacked Miami for 17 years, positioning the Dolphins as perennial championship contenders throughout his career. One of three players ever to do so, he twice won the Dolphins' Community Service Award (1996 and 1998), and was named the NFL Man of the Year in 1998. Dan was inducted into the Pro Football Hall of Fame in August 2005. In 2010, he was ranked #25 on the NFL's Top 100 Greatest Players list.
Dan attended the University of Pittsburgh, where he played football and earned a degree in communications. In 2008, he received an honorary doctorate degree in broadcast journalism from his alma mater.
For all of his achievements on the field, he may best be remembered for his philanthropic work. Dan and Claire Marino established the Dan Marino Foundation in 1992, sharing their sonŐs story, and becoming one of the first families to advocate for children with autism. The Foundation has raised more than $33 million funding the Miami ChildrenŐs Hospital Dan Marino Center, which serves more than 20,000 children annually, as well as the Marino Autism Research Institute and the Marino Vocational College, set to open in the fall of 2013.
Born Sept. 15, 1961, in Pittsburgh, Marino now lives in South Florida with his wife and their six children.