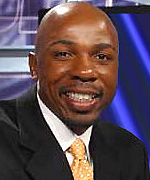 GREG ANTHONY
Studio Analyst, NCAA Tournament
Greg Anthony, a former UNLV standout and 12-year National Basketball Association veteran, joined CBS Sports in 2008 as lead studio analyst for the CBS Television Network's coverage of college basketball, including the NCAA Division I Men's Basketball Championship. Anthony teams with Greg Gumbel and Seth Davis in the studio for the NCAA Tournament on THE ROAD TO THE FINAL FOURĘ. He also serves as an analyst for CBS Sports' regular-season games. In addition, Anthony is a studio analyst for NBATV.
Anthony, the career assists leader at UNLV, helped the Runnin' Rebels win the national championship in 1990. He was a two-time Honorable Mention AP All-American in 1990 and 1991. Anthony graduated from UNLV with a bachelor's degree in Political Science.
He was drafted in 1991 by the New York Knicks. During his professional basketball career he played for New York, Vancouver, Seattle, Portland, Milwaukee and Chicago. Upon retirement from the NBA, Anthony served as an analyst for ESPN and ABC's NBA coverage. He also served as analyst for CBS COLLEGE SPORTS NETWORK's regular-season basketball game and studio.
Anthony is Vice Chairman for Young Republicans for the state of Nevada. In 1990 he was Assistant to the Ambassador for the G8 meetings in Houston, as well as a member of President Bush's delegation for the Summer Olympics in Australia. Anthony has established the Gregory C. Anthony Foundation, which promotes education and cancer awareness and research.