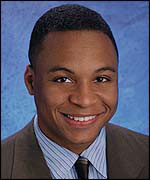 GUS JOHNSON
Play-by-Play Announcer
THE NFL ON CBS
Gus Johnson joined CBS Sports in 1995 as a play-by-play announcer for the CBS Television Network's coverage of college basketball, including the NCAA Men's Basketball Championship. He called CBS Sports' HDTV broadcast of the 2000, 2001 and 2002 Final Four and Championship games.
He also has provided play-by-play for the Network's NFL coverage since 1998. Johnson's credits at CBS Sports include play-by-play for college football, track and field, boxing, the Hambletonian, and bobsled and luge at the 1998 Olympic Winter Games. He serves as host of AT THE HALF®, CBS Sports' college basketball halftime studio show, and SPORTSDESK, CBS Sports' wraparound studio show. Johnson serves as play-by-play announcer for the Big Ten Network.
In 2009, he was named play-by-play announcer for SHOWTIME CHAMPIONSHIP BOXING. In addition, he served as play-by-play announcer for CBS ELITEXC SATURDAY NIGHT FIGHTS and is a practicing martial artist who has studied Kung Fu and boxing, and continues studying Jiu-Jitsu. Johnson also is the radio voice of the NBA's New York Knicks and provides play-by-play for the Madison Square Garden Network's coverage of the WNBA's New York Liberty.
He served as anchor and reporter for MSGN's "SportsDesk" and has provided commentary for that network's coverage of the New York City Golden Gloves Tournament. He also has served as host of "AT&T Yankees Scorecard" and New York Rangers and Knicks "GameNight." In addition, Johnson has called play-by-play for the NBA's Minnesota Timberwolves, Big East Basketball on the Big East Network, college basketball on ESPN and the Canadian Football League on ESPN2. Prior to joining MSGN, he hosted "Black College Sports Today" on ESPN and was the weekend anchor for WTTG-TV Washington, D.C. (1991-92). Johnson graduated from Howard University with a degree in political science.
He lives in New York, and has one son.