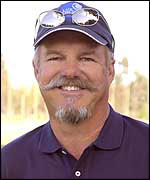 GARY McCORD
CBS Sports Golf Analyst
Gary McCord joined CBS Sports in 1986 as an analyst for the Network's golf coverage. He and David Feherty hosted CBS Sports' offbeat, critically-acclaimed LATE NIGHT highlight shows for early-round coverage of several PGA TOUR events from 1999- 2006. His insight stems from being a PGA TOUR regular from 1973-1986 and now a successful Champions Tour player. He recorded two victories in 1999 (Toshiba Senior Classic and Ingersoll-Rand Senior Tour Championship). His best-ever finishes on the PGA TOUR came at the 1975 and 1977 Greater Milwaukee Open when he finished second both times. In 1984, McCord was the PGA TOUR's leading putter. He also won the Ben Hogan Gateway Open in 1991.
A playing editor for Golf Digest, McCord has written two books, Just a Range Ball in a Box of Titleists and Golf for Dummies. He appeared as himself--and served as the technical director for the 1996 Kevin Costner hit movie Tin Cup. McCord, along with Feherty, provide commentary for the EA Sports video game, Tiger Woods PGA TOUR.
He is a partner with Peter Kostis in the Kostis/McCord Learning Center in Scottsdale, Ariz. The two-time All-America from the University of California-Riverside (1970 College Division II champion) was a Player Director on the PGA TOUR's Policy Board (1983-86). McCord was born May 23, 1948, in San Gabriel, Calif. He lives in Scottsdale, Ariz., and Edwards, Colo., with his wife, Diane.