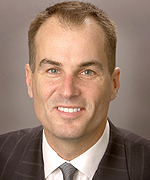 JAY BILAS
(CBS Sports Play-By-Play Broadcaster)
Jay Bilas will serve as an analyst for CBS Sports' NCAA Men's Basketball Championship coveragefor the seventh year. Bilas is co-host of ESPN's "College GameDay" and has served as a game and studio analyst on ESPN and ABC college basketball broadcasts since 1995. He is a mainstay on ESPN's coverage of the NCAA Final Four, the NBA Draft, and SportsCenter.
In both 2007 and 2008, Bilas was nominated for an Emmy Award as Outstanding Studio Analyst and received "Best Column of the Year" award in 2007 from the U.S. Basketball Writers Association and the "Distinguished Young Alumni Award" from Duke Law School. Bilas was a four-year starter at Duke for Mike Krzyzewski and helped lead Duke to the 1986 Final Four, where the Blue Devils fell to Louisville in the National Championship game. After graduating from Duke in 1986, Bilas was drafted by the NBA's Dallas Mavericks and played professionally in Italy and Spain.
From 1990 to 1992, Bilas served as an assistant coach on Krzyzewski's staff, during which time Duke advanced to three NCAA Championship games, winning back-to-back titles in 1991 and 1992. A graduate of Duke Law School, Bilas is Of Counsel with the law firm of Moore & Van Allen where he specializes in commercial litigation. He also serves as an instructor at the Nike Skills Academies around the country and as a partner for Athletes United for Youth, a foundation that provides after-school and summer programs to students in low-income neighborhoods.
Born on December 24, 1963, in San Pedro, Calif, Bilas now resides in Charlotte, N.C., with his wife, Wendy, and their daughter and son.