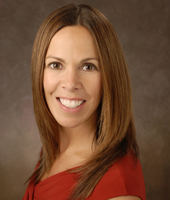 JENNIFER SABATELLE
Vice President, Communications, CBS Sports
Jennifer Sabatelle was named Vice President, Communications, CBS Sports, in 2010. Sabatelle oversees all communications functions for CBS Sports. In her position, she supervises the overall media relations efforts and strategy at CBS Sports and the CBS cable property CBS College Sports Network, including corporate communications and the promotion of all CBS Sports' personalities and programming.
Prior to serving in her current position, Sabatelle was Director, Communications, CBS Sports since 2007. In that role, she was responsible for CBS Sports' college related properties including the NCAA Division I Men's Basketball Championship, the SEC ON CBS and regular-season basketball. In addition she oversaw the publicity efforts for CBS College Sports Network. Sabatelle also worked closely with Showtime Sports on promotion for the CBS Sports produced INSIDE THE NFL.
Sabatelle served as the liaison between CBS Sports and CBS' affiliated television stations. In addition, she contributed to the publicity efforts for the Network's coverage of the NFL, PGA TOUR, including the Masters and PGA Championship and the CBS SPORTS SPECTACULARS and other ancillary programming. Sabatelle was promoted to Manager, Communications in October 2006 after joining the CBS Sports Communications Department in May 2002, as Senior Press Representative working on promotion of the personalities and programming related to NCAA basketball, SEC football and the U.S. Open Tennis Championships.
She joined CBS Sports in May 2000 as Coordinator of Programming and Marketing. In her role she was responsible for coordinating over 600 hours of sports programming per year. In addition, she coordinated schedules and affiliate regionalization for the NFL and NCAA Division I Men's Basketball Championship and implemented NFL broadcast policies for the CBS Television Network. She also managed web inventory for NFL, NCAA, and AOL on CBS.com and CBSSportsline.com.
Sabatelle joined CBS Sports, from the NFL where she was a Broadcast Assistant serving as a liaison between the League and it's member clubs. In addition, she assisted in the construction of the NFL schedule and managed the NFL Instant Replay Communicators and Technicians. She began her career at Grey Advertising in Public Relations.
A graduate of Ithaca College (B.A., Television-Radio), Sabatelle resides in New York City.