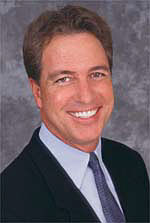 KEVIN HARLAN
Play-by-Play Announcer, THE NFL ON CBS

Kevin Harlan joined the CBS Television Network's NFL broadcast team as a play-by-play announcer in 1998, after four years of broadcasting the NFL on Fox Sports. He joined Fox in 1994. He called CBS SportsŐ HDTV coverage of the 2001 AFC Championship and Super Bowl XXXV. He also has called CBS Sports' coverage of the NCAA Men's Basketball
Championship since 1999, and called the NCAA Final Four and Championship game for CBS Radio Network and Westwood One for the five consecutive years (2003-2007), as well as the regionals (2009, 2010 and 2011).
A veteran football and basketball broadcaster, this NFL season marks his 28th consecutive season broadcasting the NFL. Harlan once again called play-by-play for Monday Night Football games this year teaming up with Boomer Esiason on Westwood One radio as the lead announce team, including all the playoffs, a Conference Championship game and Super Bowl XLVI. He has called the last two Super Bowls for Westwood One.
This upcoming NBA season marks his 26th broadcasting the NBA. Harlan also has called play-by-play for Turner Sports' coverage of the NBA Playoffs since 1996. He has called regular-season action for TNT and TBS since the 1997-1998 season and has served as play-by-play announcer for TBS's coverage of the 1998 Goodwill Games and several college football bowl games. For five seasons, Harlan broadcast NFL pre-season games for the Chicago Bears on WBBM-TV. He began broadcasting the Green Bay Packers' pre-season games in 2003 and will continue again this season. Harlan also called pre-season games for the Kansas City Chiefs on KCTV-5 and Jacksonville Jaguars.
He was the voice of the NBA's Minnesota Timberwolves for nine seasons on KFAN-AM Radio and KARE-TV. He has called NFL action for NBC Sports and college football for ESPN, as well as college football, college basketball and championship boxing for the Mutual Broadcasting System. In addition, Harlan has been the voice of the NBAŐs Ň2KÓ video games series since 2006, the last four years with CBS Sports colleague Clark Kellogg as analyst.
Harlan landed his first job, as the radio and television voice of the NBA's Kansas City Kings, at the age of 22. He called basketball broadcasts for the University of Kansas Jayhawks Radio Network (1983-1984) and also spent nine seasons (1985-1993) as the radio voice of the NFL's Kansas City Chiefs. In addition, he provided radio play-by-play for the University of Missouri Football and Basketball Network (1986-1989).
Harlan was born June 21, 1960, in Milwaukee and raised in Green Bay, Wis. He was graduated from the University of Kansas in 1982 with a degree in broadcast journalism. HarlanŐs father, Bob, was the longtime president and CEO of the Green Bay Packers. He and his wife, Ann, live in Mission Hills, Kan., with their four children.