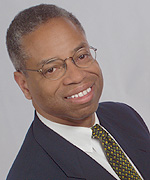 LEN ELMORE
(CBS Sports Analyst)
Len Elmore returned to CBS Sports in 2003 for NCAA Men's Basketball Championship coverage. He is serving his 12th year as an analyst for the Network's NCAA Men's Basketball Championship coverage. Elmore has served as a college basketball analyst for ESPN for the past 13 consecutive years, calling ACC and Big East games including the Big East Tournament.
Elmore served as an analyst for ABC Sports. He worked as an analyst for CBS Sports from 1989-92 and served the same role for Raycom/Jefferson Pilot. He is an eight-year NBA veteran, having played with the Indiana Pacers, Kansas City Kings, Milwaukee Bucks, New Jersey Nets and New York Knicks. Elmore played two seasons with the ABA's Indiana Pacers in 1975-76 before the Pacers entered the NBA. He graduated from the University of Maryland in 1974 where he was a three-time All-ACC player and an All-American in 1974.
In 2002, the 50th Anniversary of the ACC, Elmore was chosen as one of the ACC's Top 50 Players of all time. Elmore also graduated from Harvard Law School in 1987 and began his law career as an Assistant District Attorney in Brooklyn, N.Y. Elmore currently serves on The Knight Commission on Intercollegiate Athletics Reform, the University of Maryland Foundation Board of Trustees, as well as serving on the Board of Directors of both 1800Flowers.com and Lee Enterprises, Inc.
He also served as President of the National Basketball Retired Players Association. Elmore is a New York City native and was inducted into the New York City Basketball Hall of Fame in 2001. Elmore was born March 28, 1952 and resides in New York.