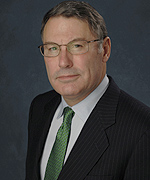 MICHAEL L. ARESCO
(Executive Vice President, Programming)
CBS Sports
Michael L. Aresco was named Executive Vice President, Programming in June 2008 after having been promoted to Senior Vice President, Programming, in 2000. He joined CBS Sports as Vice President, Programming, in August 1996.
Aresco is responsible for all college programming for both CBS Sports and CBS Sports Network and helps shape the strategy for growing CBS Sports Network. He oversees the acquisition and management of the CBS Sports college properties, including the NCAA Men's Basketball Championship, regular season college basketball and football, conference basketball championship games, football bowl games and miscellaneous programming. His responsibilities include game selection and scheduling, day-to-day operations, contract negotiations, identification of future acquisitions, coordination of related new media and marketing initiatives and development of future programming strategies.
In 2010, Aresco, working closely with CBS Sports Chairman Sean McManus, played an integral role in the landmark deal that created the CBS Sports-Turner Broadcasting partnership which resulted in the acquisition of the NCAA Men's Division I Basketball Championship rights through 2024. He manages this complex 14-year agreement, which provides for expanded national broadcast and cable coverage of the NCAA basketball championship. Aresco was also instrumental in the CBS Television Network's groundbreaking bundled rights agreement with the NCAA which granted CBS exclusive rights to the NCAA Tournament from 2003 through 2010. The 2010 NCAA Tournament was awarded a Sports Emmy in the Outstanding Playoff Coverage category. He also played a key role in negotiating the marketing agreement that coincided with the original NCAA deal and he was instrumental in creating a partnership with IMG and the NCAA to assist in the acquisition of new NCAA corporate sponsors. He has also played a major role in the evolution and development of various new media platforms for the NCAA Tournament, including March Madness on Demand (MMOD), CBS's highly successful Tournament streaming platform, and Video on Demand (VOD) applications. Aresco also negotiated numerous agreements with DirecTV to show NCAA Tournament games on an out-of-market basis from 1999 through 2010.
Aresco has played an active role in coordinating CBS content with CBS College Sports Network, now rebranded as CBS Sports Network, and assists the network in program planning and development as well as programming acquisitions and contract negotiations. He also authored a high school sports initiative that led to CBS's purchase of MaxPreps, the leading website devoted to high school sports.
In 2008, Aresco negotiated CBS's historic 15-year Southeastern Conference agreement to televise SEC football and basketball. This agreement also provides multiple new media rights for CBS, CBS Sports Network and CBS Interactive. He has reached numerous basketball agreements with the major collegiate conferences, including the Big Ten, ACC, Big East, Pac-10 and Big 12. He recently negotiated a 10-year extension to CBS's Army-Navy football game agreement and was instrumental in the Academies' decision to move the game a week later where it is the concluding game of the college football regular season. CBS Sports's coverage of the Army-Navy game was honored in 2004 by the Union League of Philadelphia. He also recently negotiated an extension of CBS Sports's Notre Dame-Navy football game agreement through 2016. Aresco has negotiated agreements with the Sun and Gator Bowls and has assisted in negotiating the CBS Sports Network-Navy football agreements through 2018 and a new Army-CBS Sports Network football agreement that began in 2009.
From 2008 to 2011, Aresco, as a member of its Board, helped shape the strategic growth initiatives of the mtn., the Denver-based regional sports network devoted to the Mountain West Conference and jointly owned by CBS and Comcast. Aresco is also the creator and Executive Producer of The Tony Barnhart Show, the successful and critically-acclaimed weekly program devoted to opinion and topical discussions of the world of college football, as well as Courtside with Seth Davis, a highly-regarded weekly show devoted to college basketball, both of which air on the CBS Sports Network.
In 2004, he was appointed by then-NCAA President Myles Brand to the Basketball Partnership, a select panel whose mission was to explore ways to improve and promote the sport of college basketball. Other members included Duke basketball coach Mike Krzyzewski, Big Ten Commissioner Jim Delany and former Big East Commissioner Dave Gavitt. He is a charter member of the Steering Committee of the Columbia University / New York City Chapter of the National Football Foundation and serves on the board of the National Sports Marketing Network. He has been a guest lecturer at a number of universities, including the Tisch Center for Sports Management at NYU, Duke University's Fuqua School of Business and the John Curley Center for Sports Journalism at Penn State University. He has also been a frequent delegate to the Spruce Meadows Changing Fortunes Round Table, an annual gathering of prominent worldwide business leaders in Calgary, Canada. In 2003, he was the recipient of the All-American Football Foundation's Outstanding Television Sports Executive Award.
Aresco joined CBS Sports from ESPN where he was responsible for overseeing the acquisition, scheduling and development of long-term strategies for all of ESPN and ESPN2's college sports properties. Earlier in his ESPN career, Aresco was responsible for programming a wide variety of sports properties, including CFA, Big 12 and Pacific 10 college football, NCAA events, including the early rounds of the 1989 and 1990 NCAA Men's Basketball Tournament, and the College World Series, ATP and Davis Cup tennis, Top Rank boxing, the thoroughbred Racing Across America series, PRCA rodeo, the Calgary Stampede, Australian Rules Football, the Canadian Football League, billiards, wrestling and yachting. He was the architect of ESPN's signature Thursday night college football series and was instrumental in developing ESPN's highly successful "Bowl Week." He joined ESPN in 1984 as counsel and was named Assistant General Counsel in 1988 before moving to the ESPN programming department.
Aresco is a Phi Beta Kappa graduate of Tufts University (B.A., magna cum laude, history); the Fletcher School of Law and Diplomacy at Tufts (M.A., international relations), where he held a John Moors Cabot Fellowship, and the University of Connecticut Law School (J.D.). He served as a foreign relations staff intern in the office of former U.S. Senator Robert P. Griffin of Michigan and also as an intern in the Hartford Office of the United States Attorney for the District of Connecticut, after which he practiced law privately in Hartford for several years. He lives in Southport, Conn. with his wife, Sharon. They have two grown children, Matthew, an Emmy-nominated television producer who has his own independent production company in Connecticut, and Brett, an aspiring actor living in New York City.