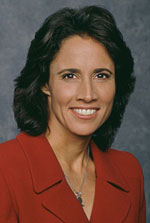 MARY CARILLO
Lead Tennis Analyst
Mary Carillo, who joined CBS Sports as a tennis analyst in 1986, covers the U.S. Open Tennis Championships as a match analyst with John McEnroe. She also has served as an analyst for the CBS Television Network's late-night U.S. Open highlights program.
She served as a reporter for CBS Sports' coverage of the 1992, 1994 and 1998 Olympic Winter Games and as a reporter for the Network's coverage of NCAA women's basketball and gymnastics. In addition, Carillo serves as analyst for NBC's tennis broadcasts of the French Open and Wimbledon and covers the Australian Open, the French Open, Wimbledon and the U.S. Open for ESPN. She is also a correspondent for HBO Sports' "Real Sports with Bryant Gumbel."
Carillo recently served as host of NBC's Late Night coverage for the 2008 Summer Olympic Games in Beijing. In 2006, she co-hosted the Winter Olympic Opening and Closing Ceremonies on NBC and hosted the nightly figure skating show "Olympic Ice" on USA Network. Carillo also served as host for the 2004 Athens Olympics for Bravo, anchored CNBC's weekend coverage and USA Network's live tennis coverage. She was a reporter for NBC's coverage of the 2000 Olympic Summer Games and the 2002 Olympic Winter Games, as well as host of the 2004 and 2002 Closing Ceremony broadcast. Prior to joining CBS Sports, she provided tennis analysis for USA Network for six years and ESPN for nine years.
She also covered Wimbledon for HBO for four years. Carillo played on the women's professional tennis circuit from 1977 to 1980. She was ranked as high as #33 from January through March 1980, when she retired. She won the French Open mixed-doubles title with partner John McEnroe in 1977. A former member of the Women's Tennis Association Board of Directors, Carillo was named Best Commentator by Tennis Magazine (1988-91), Best Commentator by World Tennis magazine (1986) and Broadcaster of the Year by the WTA (1981 and 1985).
In 2007 Carillo won a Peabody Award for the HBO documentary "Billie Jean King: Portrait of a Pioneer." She also won a Peabody Award for co-writing the HBO documentary "Dare to Compete: The Struggle of Women in Sports" with Frank DeFord.
In 2006, Carillo received an Emmy Award for her work on "Real Sports with Bryant Gumbel." She was named the 2007 WISE Woman of the Year. Carillo also has written two books, Tennis My Way with Martina Navratilova and Rick Elstein's Tennis Kinetics. She was born March 15, 1957, in Queens, N.Y., and lives in Naples, Fla. She has two children.