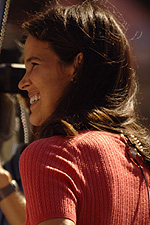 MARY JOE FERNANDEZ
Reporter, US Open
This is Mary Joe Fernandez's seventh year on CBS Sports' U.S. Open coverage. She has served as a reporter for the past seven years on CBS Sports' Sony Ericsson Open telecast. Since 2000, she has been an announcer for ESPN's tennis coverage.
In 2009, she became captain of USA's Fed Cup team and has led her team to the finals twice. During her career Fernandez was ranked as high as No. 4 in the world and recorded seven singles titles on the WTA TOUR.
She was a finalist in three Grand Slam Tournaments: the 1990 and 1992 Australian Open and 1993 French Open. She also won two Grand Slam doubles titles, first in 1991 playing with Patty Fendick in the Australian Open, and the 1996 French Open paired with Lindsay Davenport. In 1985, at 14 years and 8 days old, she became the youngest player to win a U.S. Open match, defeating Sara Gomer. Fernandez is tied with Venus Williams as the most highly-decorated United States Tennis Olympian, with two gold medals and one bronze. She represented the United States in the Olympics in 1992 and 1996 and was a winning member of the 1996 USA Fed Cup team. She competed on the Fed Cup team in 1991 and then again from 1994 to 1999.
She served as a member of the USTA's executive board and was elected to the WTA TOUR Player's Council four consecutive years during her career. She was a Recipient of the 1998 Family Circle Cup/Hormel Foods Player Who Makes A Difference Award; Family Circle and Hormel Foods each donated $10,000 to her charities In 1993, Fernandez contributed a women's tennis scholarship to Florida International University in Miami. Fernandez is married to Tony Godsick and has two children, a daughter, Isabella, and a son, Nicholas.