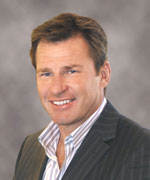 SIR NICK FALDO
Lead Analyst, PGA ON CBS
Sir Nick Faldo, winner of six Majors including three Masters¨ Tournaments and three British Open titles, and more than 40 tournaments worldwide assumed the position of CBS SportsŐ lead golf analyst at the beginning of the 2007 golf season. He joined CBS Sports after three years as lead analyst for ABC SportsŐ golf coverage.
After rapidly becoming a very accomplished amateur and making a smooth transition to the professional ranks in 1976, Faldo played on the first of 11 European Ryder Cup teams in 1977 as a 20-year-old. Throughout the mid-1980s, Faldo was a force in European golf. In 1987 he achieved his first Major championship victory by winning the British Open at Muirfield. Faldo followed that with back-to-back Masters triumphs in 1989 and 1990, and then another British Open victory in 1990 at St. Andrews. In 1990 he became the first international player to win the PGA TOURŐs coveted ŇPlayer of the Year Award.Ó In 1992, Faldo won his third British Open title setting a 36-hole Major record with opening rounds of 66-64. Between 1993 and 1994, Faldo became the WorldŐs No. 1-ranked player for 81 consecutive weeks. And later in 1996, he won his third Masters title and sixth major beating Greg Norman by five strokes after trailing by six going into the final round.
Inducted into the World Golf Hall of Fame in 1997, Faldo captained the 2008 European Ryder Cup team. He holds the all-time Ryder Cup record for most appearances (11) and most points scored (25) and led the European Order of Merits on three occasions. He was a member of the first European side to defeat the U.S. in the Ryder Cup in 28 years in 1985. Two years later Faldo played a pivotal role as Europe retained the Cup, winning for the first time on American soil at Muirfield Village. He also was a member of the victorious 1995 and 1997 sides. FaldoŐs 30 European victories include three World Match Play Championships, a European Open, four PGA Championships and three successive Irish Opens. Throughout his career, he was a winner in such diverse locations as Hong Kong, Jamaica and Sun City in South Africa.
Through the creation of Faldo Enterprises, among his burgeoning business successes include Faldo Design, an international golf design business; the Faldo Series, a premier competition for young golfers; and Faldo Wine, a signature series of excellent wines. Faldo also serves as lead analyst for the Golf ChannelŐs early-round coverage of the PGA TOUR. Faldo was honored with Knighthood in June 2009, becoming only the second professional golfer to receive the honor. He also was awarded the MBE (Member of the British Empire) in 1988. Faldo was born on July 18, 1957 in Welwyn Garden City, England. He has four children and currently resides in Winter Park, Fla.