PETER KOSTIS
CBS Sports On-Course Golf Reporter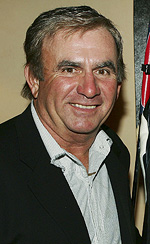 Peter Kostis joined CBS Sports in 1992. Kostis is recognized worldwide for his teaching abilities, which he now uses on air with CBS Sports' Emmy Award-winning technical innovation, SwingVision. He uses the super-slow action to break down player's swings and demonstrates golf shots fromvarious parts of the golf course. Kostis also served as USA Network's lead golf analyst from 1994-2004.
As a member of Golf Digest's Top 50 and Golf Magazine's Top 100 teaching staffs for more than 20 years, Kostis has worked with formidable students such as Steve Elkington, Bernhard Langer, Tom Purtzer, Mark Calcavecchia and, most recently, Paul Casey, Grace Park, Chez Reavie, Ricky Barnes and Parker McLaughlin. He also has helped other well-known athletes and personalities in their pursuit of mastering the game, such as Kevin Costner, Maury Povich, Dan Marino and former baseball notables Jim Rice and Mike Schmidt.
Kostis is a partner with Gary McCord in the Kostis/McCord Learning Center in Scottsdale, Ariz. He was born Dec. 23, 1946 in Sanford, Maine. Kostis now lives in Paradise Valley, Ariz., with his wife, Sandy, and two sons.
You can follow Kostis on Twitter at: @peterjkostis.