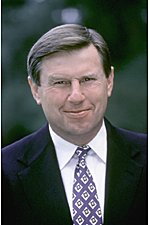 PETER OOSTERHUIS
CBS Sports Golf Analyst
Peter Oosterhuis joined the CBS Sports golf announce team full-time in 1998 after having served as an analyst for the Network's coverage of four tournaments, including the Masters and PGA Championship, in 1997. He also serves as a contributing analyst for the Golf Channel's Pre-and Post-Game Shows, as well as fall series events, Champions Tour and the PGA TOUR Qualifying Tournament.
Oosterhuis served as lead analyst for the Golf Channel's early-round coverage of several PGA TOUR events (1998-2002). Before joining CBS, Oosterhuis was the lead analyst for the Golf Channel's coverage of the European Tour (1995-97), reporting on approximately 90 tournaments. He covered the PGA TOUR for British Sky Broadcasting (1994) and two British Open Championships for the BBC. As a player, Oosterhuis competed on the PGA TOUR from 1975 to 1986.
Before that, he played worldwide on the European Tour, amassing more than 20 victories, including the 1973 British PGA Championship, the 1973 and 1974 French Open and the 1981 Canadian Open. In 1973, Oosterhuis competed in 43 tournaments in 17 countries. He was runner-up at the British Open in 1974 and 1982 and led the European Tour Order of Merit for four consecutive years (1971-74), a record that stood until broken by Colin Montgomerie in 1997. In 1984, he led the sand saves statistical category on the PGA TOUR. Oosterhuis played on six European Ryder Cup teams from 1971 to 1981. He is co-holder of the record for most wins in singles with Nick Faldo, Arnold Palmer, Billy Casper, Sam Snead and Lee Trevino (six). His wins include victories over Palmer and Johnny Miller.
As an amateur, Oosterhuis played for Great Britain against the U.S. in the 1967 Walker Cup Match and represented Great Britain in the 1968 World Amateur Team Championship before turning professional. He served as Director of Golf at Forsgate Country Club in Jamesburg, N.J. and at Riviera Country Club in Pacific Palisades, Calif. (1987-93). Born May 3, 1948 in London, England, he lives in Charlotte, N.C., with his wife, Ruth Ann.