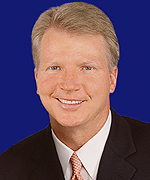 PHIL SIMMS
Lead Analyst
THE NFL ON CBS
Phil Simms, Super Bowl XXI MVP and a 15-year NFL veteran, joined CBS Sports in January 1998 as lead analyst for the CBS Television Network's coverage of the NFL. This season, he and Jim Nantz pair for their ninth season as the Network's lead NFL announce team. Simms, previously teamed with Greg Gumbel for six seasons (1998-2003), called
Super Bowl XXXV in 2001, Super Bowl XXXVIII in 2004, Super Bowl XLI in 2007 and Super Bowl XLIV in 2010 on the CBS Television Network. This season, Simms once again will call the Super Bowl, as well as serves as a host of INSIDE THE NFL on Showtime alongside James Brown and Cris Collinsworth. In addition, this season along with Steve Beuerlein and Rich Gannon, Simms will co-host a weekly show, NFL MONDAY QB, on the CBS Sports Network.
Simms introduced the "Phil Simms All-Iron Team," which honored NFL players and coaches, in a special Christmas Day broadcast on CBS in 1999. The "All-Iron Team" special aired on Super Bowl XLI Sunday in February 2007 and on Super Bowl XLIV Sunday in February 2010. In 2002, Simms co-hosted the Miss Universe Pageant on CBS, becoming the first athlete ever to do so. He is the author of The New York Times bestseller Sunday Morning Quarterback: Going Deep on the Strategies, Myths and Mayhem of Football (2004).
Prior to joining CBS Sports, Simms served as a game analyst on NBC's top broadcast team, along with Dick Enberg and Paul Maguire (1995-98). He called Super Bowls XXX and XXXII, announced weightlifting events for NBC Sports' coverage of the 1996 Olympic Summer Games, served as a sideline reporter on "The NBA on NBC" and worked on the "NFL Quarterback Challenge" and "Run to Daylight." He also served as a studio analyst for ESPN.
As an All-Pro quarterback, Simms led the New York Giants to two Super Bowl titles. He completed 22 of 25 passes in Super Bowl XXI as the Giants defeated the Denver Broncos, 39-20, to win their first Super Bowl title. He established team marks for most passes completed and attempted for one game (40 completed, 62 attempted), season (286, 533) and career (2,576, 4,647), most career touchdown passes (199) and most 300-yard games in a career (21). He was the Giants' first selection in the 1979 NFL Draft, was selected for the 1985 and 1993 Pro Bowls and was the 1985 Pro Bowl MVP. He was named All-Pro in 1986.
Simms graduated from Morehead State University in Morehead, Ky. in 1979. He and his wife, Diana, live in Franklin Lakes, N.J. They have three children, Christopher, Matthew and Deirdre. Simms also has two grandchildren, Charlotte and Phillip, from their son Christopher and his wife, Danielle.