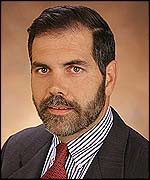 ROB CORREA
(Executive Vice President, Programming)
CBS Sports
Rob Correa was named Executive Vice President in June 2008 after having been Senior Vice President, Programming, since June 2000.
In his expanded role Correa is responsible for all non-college related programming for CBS Sports, managing the division's acquisitions, scheduling and strategic planning for the NFL, golf, tennis, auto racing, winter sports and anthology programs. He will also work on new revenue opportunities for CBS Sports. Correa joined CBS Sports as Vice President, Programming, in September 1995.
Most recently, he was instrumental in reaching a new multi-year agreement with the PGA TOUR to extend its broadcast rights through 2012 and to remain the Tour's dominant broadcast partner. In addition, Correa played a key role in extending CBS' agreement with the PGA of America for the rights to the PGA Championship through 2011.
Correa, who is responsible for the scheduling and planning of the U.S. Open Tennis Championships, the ATP Tour and other tennis events, also was instrumental in extending CBS' agreement with the United States Tennis Association to broadcast the U.S. Open through 2011.
He oversees the division's golf programming which includes more than 20 events and two of the four majors, the Masters and PGA Championship. Since joining CBS Sports, Correa has been responsible for scheduling and developing a wide variety of sports properties, including NASCAR and the Pepsi 400, the first primetime auto race, "Ice Wars" and other primetime figure skating events, pre-Olympic anthologies, boxing and anthology programming with skiing, women's soccer, horse racing, gymnastics and track & field.
Correa joined CBS Sports from USA Network where during his 13-year career he created and secured the cable sports rights to the Ryder Cup, the Masters, the U.S. Open Tennis Championships, the French Open, world championship boxing, figure skating, college football and basketball and sports specials.
He is a graduate of Georgetown University (B.A., English, 1979). Correa lives in Ridgefield, Conn. with his wife, Rosemary and four children.