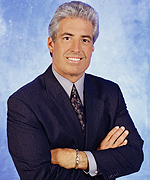 RANDY CROSS
Analyst
THE NFL ON CBS
Randy Cross, who returned to CBS Sports in 1998 as an analyst for THE NFL ON CBS, returned to the announce booth as a game analyst for the 2002 NFL season and will call selected games for the 2012 NFL season, as well as work as a game analyst for Navy and Army football on the CBS Sports Network, making him the first announcer to call multiple games for Army and Navy in a season. In addition, he remains a studio analyst on CBS Sports Network's weekly round-table show, INSIDE COLLEGE FOOTBALL. He spent three years as an analyst on THE NFL TODAY, the CBS Television Network's NFL studio show.
Cross had previously worked for the Network as a game analyst from 1989 to 1993, and was a member of the CBS Sports team that covered the NFC Divisional Playoffs and Championship games and Super Bowl XXVI. He also served as an analyst for CBS Radio Sports' coverage of Super Bowl XXIV. During the Network's coverage of Super Bowl XLI, Cross served as a reporter for the pre-game show with a report with American soldiers in the Iraq War from Baghdad.
A 13-year NFL veteran and three-time All-Pro (1981, 1983 and 1984) and Pro Bowler (1981, 1982 and 1984), Cross was a center and guard for the San Francisco 49ers and helped lead the team to three Super Bowl championships (1982, 1985 and 1989). He was the 49ers' Offensive Lineman of the Year in 1986, 1987 and 1988, and was voted the 49ers' Man of the Year in 1985 for his work in the community.
Following his earlier tenure at CBS Sports, Cross spent four years at NBC Sports as an analyst for its NFL broadcasts. He also served as an analyst for selected Notre Dame games and the 1995 Fiesta Bowl and as a reporter for Super Bowl XXXII.
A two-time All-American at UCLA, Cross played on the 1976 Rose Bowl Champion Bruins team. He started in 28 of 34 career games, including his final 23. Cross was elected to the College Football Hall of Fame as part of the 2010 College Football Hall of Fame Football Bowl Subdivision Class. He was the 49ers' second-round pick in the 1976 NFL Draft and started at center beginning that season but played mainly guard throughout his career. Cross missed only eight games over the next 13 years. He was inducted into the College Football Hall of Fame on July 16, 2011.
He was born April 25, 1954, in New York and grew up in Southern California. He lives in Alpharetta, Ga., with his wife, Patrice, and their three children, daughters Kelly, who graduated from University of Georgia in 2006 (Broadcast Journalism), and Crystal, a Bio-Medical Research student at Auburn University, and son, Brendan, studying Communications at Wake Forest University.