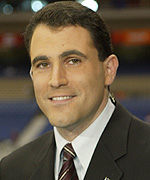 SETH DAVIS
Studio Analyst, NCAA Tournament
Seth Davis is working his eighth year as a contributor for CBS Sports as part of the NCAA Division I Men's Basketball Championship coverage. He serves as analyst on AT THE HALF®, the Network's college basketball halftime show, for the Network's regular-season basketball coverage.
Davis also has served as an analyst for CBS COLLEGE SPORTS NETWORK since 2004. Davis is in his second season as host of COURTSIDE WITH SETH DAVIS, a weekly primetime show on CBS COLLEGE SPORTS NETWORK. He joined CBS Sports in 2003 as a contributor for AT THE HALF®. In 2004 Davis was a reporter for CBS Sports' THE NFL TODAY. He writes features for Sports Illustrated, and has contributed to the magazine's "Golf Plus" since 1995. Davis is a regular contributor to SI.com, where he authors his popular "Hoop Thoughts" column.
Prior to joining Sports Illustrated, he spent three years at the New Haven Register, primarily covering local sports, the NFL, NBA and college basketball. Last year Davis's second book, WHEN MARCH WENT MAD: The Game That Transformed Basketball became a New York Times Bestseller. He also is the author of a memoir, Equinunk, Tell Your Story: My Return to Summer Camp, which was published in 2003 by Chandler House Press.
Davis graduated in 1992 with a degree in political science from Duke University, where he served as a sports columnist for The Chronicle. He has performed stand-up comedy in various clubs throughout New York City.
Born in Connecticut and raised in Potomac, Md., he currently resides in Ridgefield, Conn. with his wife, Melissa and sons, Zachary, Noah and Gabriel, born in December 2009.