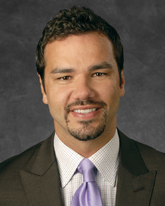 SPERO DEDES
CBS Sports Play-By-Play Announcer
THE NFL ON CBS
Spero Dedes joined the CBS Television Network's coverage of THE NFL ON CBS and the NCAA Men's Division I Basketball Championship as a play-by-play announcer in 2010. He also calls regular-season college basketball, which began in the 2009-10 season for CBS Sports - six years after working his first play-by-play assignment for the Network in 2004. Dedes also joined the Network's.
Dedes served six seasons as the radio play-by-play announcer for the Los Angeles Lakers before becoming the radio and television voice of the New York Knicks for the 2011 season. Dedes continues a long line of sports broadcasting excellence produced by Fordham University's WFUV Radio that began with the legendary voice of the Brooklyn/Los Angeles Dodgers Vin Scully in the late 1940s. By the age of 31, he called games for three of the four major television networks, as well as the nation's premier radio network.
Before his move to Los Angeles to join the Lakers and NFL Network, Dedes was based in New York, working as a play-by-play announcer and host for both NBA-TV and the New York Yankees-owned and operated regional sports network, YES. His extensive resume also includes play-by-play on Westwood One's coverage of NCAA football and basketball, the NFL on FOX, and in August of 2004 Dedes was stationed in Athens as a reporter/play-by-play announcer on NBC's coverage of the 2004 Summer Olympics.
Dedes began his broadcasting career at WFAN Radio in New York where he handled Ò20/20Ó updates and served as New York Jets beat reporter. Also in 2001, he worked as the radio voice of the Arena Football League's New Jersey Gladiators.
The Paramus, N.J. native and 2001 Fordham graduate was the inaugural recipient of the Marty Glickman Award, given to the Fordham student announcer who best exemplifies the standards set by the late sports broadcasting icon. In the off-season, Dedes divides his summer between Los Angeles, New Jersey and a family home in Greece.