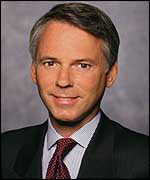 SEAN McMANUS
Chairman, CBS Sports &
Executive Producer, THE NFL ON CBS
Sean McManus was named Chairman, CBS Sports, in February 2011 overseeing all sports properties across all CBS Sports operations. He also serves as Executive Producer of THE NFL ON CBS.
McManus served concurrently as President, CBS News and Sports for more than five years prior to being named Chairman. He was named President, CBS Sports, in November 1996 and President, CBS News, in October 2005 and is only the second person to hold both Division titles simultaneously; Roone Arledge held both at ABC from 1977-86.
As president of CBS Sports, McManus led the CBS Corporation's efforts in acquiring broadcast rights to the National Football League in January 1998, and in November 2004 with Leslie Moonves, re-negotiated the contract to retain the rights for CBS until 2011. In May 2009, McManus, again with Moonves, re-negotiated the NFL contract to retain the rights for CBS through the 2013-14 season and includes CBS broadcasting Super Bowl XLVII in New Orleans in 2013. And in December 2011, McManus, with Moonves, re-negotiated a nine-year deal to retain the NFL broadcast rights through the 2022 season. In February 2013, McManus oversaw unprecedented Super Bowl coverage when the Network established CBS SUPER BOWL PARK at Jackson Square as New Orleans' home to 15 different shows from nine CBS divisions across multiple platforms including broadcast, cable and premium television, radio and digital all week long leading up to exclusive game coverage of Super Bowl XLVII. On February 7, 2010, CBS Sports' broadcast of Super Bowl XLIV between New Orleans and Indianapolis was watched by 106.5 million viewers making it the most-watched program in television history at the time. In addition, McManus serves as executive producer for the acclaimed show INSIDE THE NFL on Showtime. In its first year on SHOWTIME in 2008, INSIDE THE NFL won the Sports Emmy® Award for Outstanding Studio Show-Weekly and did so again for 2012. McManus is a 10-time Emmy Award-winner.
During McManus' more than 16 years as Chairman and President of the Division, CBS Sports has become the year-round leader in network sports television. In November 1999, he led CBS to an unprecedented landmark agreement with the NCAA which extended the exclusive over-the-air broadcast rights, as well as rights to the Internet, marketing and corporate sponsorship, merchandising, licensing, cable television, radio, satellite, digital and home video to the NCAA Division I Men's Basketball Championship until 2014. The 11-year pact was the most comprehensive sports agreement in history. In April 2010, together with Moonves, he negotiated a landmark deal, partnering with Turner Broadcasting, to extend the rights to the NCAA Men's Division I Basketball Championship through 2024. The $10.8 billion deal is the most extensive and far-reaching network-cable sports deal ever created.
McManus reached a new multi-year agreement with the PGA TOUR to extend its broadcast rights through 2021 and to remain the TOUR's dominant broadcast partner. He also extended broadcast rights to the PGA Championship through 2019. In addition, McManus extended CBS's agreement with the United States Tennis Association to broadcast the U.S. Open through 2014, extended the agreement with the Big Ten to broadcast the conference's basketball games through the 2016-17 season and extended the Southeastern Conference (SEC) football and basketball agreements in another landmark deal, a 15-year extension, through the 2023-24 season. In May 2012, McManus oversaw the acquisition of broadcast rights for men's college basketball games from the Atlantic Coast Conference (ACC), Big 12 and Pac-12 Conferences through an agreement with ESPN.
Complementing the on-air talent roster that had already included Jim Nantz, John McEnroe, Billy Packer and Ken Venturi, McManus was responsible for adding Greg Gumbel, James Brown, Dick Enberg, Verne Lundquist, Phil Simms, Dan Dierdorf, Lesley Visser, Boomer Esiason, Shannon Sharpe, Dan Marino, Nick Faldo, Bill Cowher, Greg Anthony, Clark Kellogg and Jim Rome to CBS Sports' announcer lineup.
In addition, McManus led CBS's efforts in securing a partnership with SportsLine USA that created CBS SportsLine, now known as CBSSports.com, one of the most successful sports Internet sites. In January 2008, McManus began overseeing CSTV's cable and digital businesses initiating its re-branding as CBS COLLEGE SPORTS NETWORK, and its further re-branding in April 2011 as CBS SPORTS NETWORK.
As president of CBS News, McManus restructured and re-tooled the Division, both in front of and behind the camera. Most notable on the on-air side was the April 2006 announcement that Katie Couric would join CBS News as the new anchor and managing editor of the CBS EVENING NEWS and a correspondent for 60 MINUTES. In December 2010, McManus also oversaw a major shift at THE EARLY SHOW, naming Erica Hill and Chris Wragge co-anchors, Jeff Glor news anchor and Marysol Castro, weather anchor. Also during his tenure, a new state-of-the-art newsroom at CBS News headquarters in New York and EVENING NEWS set were built, and a new primary control room was unveiled in July 2008.
McManus aggressively worked to build a strong corps of reporters, as well as developed the next generation of CBS News correspondents. He designated and assigned key beats including Chief Foreign Affairs Correspondent Lara Logan, Chief White House correspondent Chip Reid, Chief Investigative Correspondent Armen Keteyian, and National Correspondent Byron Pitts. McManus also added strong veteran correspondents to round out the group, including Jeff Greenfield and Dean Reynolds. He announced that CNN's Anderson Cooper would contribute several stories to 60 MINUTES and CNN's Dr. Sanjay Gupta would contribute to the CBS EVENING NEWS.
McManus also led the Division through tragedy, when a car bomb attack in Baghdad on Memorial Day 2006 killed cameraman Paul Douglas and soundman James Brolan and critically injured correspondent Kimberly Dozier. In August 2009, McManus once again guided the Division through a difficult time, as correspondent Cami McCormick was seriously injured by an improvised exploding device (IED) in Afghanistan, in a blast that killed an American serviceman, Army Spc. Abraham Sherrod Wheeler III.
Under McManus, CBS News has won more major awards than any other network's news division, including one of electronic journalism's most prestigious honors for an innovative, division-wide news initiative that he personally conceived and oversaw. "CBS REPORTS: Children of the Recession," a months-long series of multi-platform reports on the effects of the dramatic economic downturn on America's youth, won the coveted Alfred I. duPont-Columbia University award in January 2010. "Children of the Recession" also represented McManus' reincarnation after four decades of the prestigious CBS REPORTS moniker, previously used for documentaries, as a Division-wide effort to offer comprehensive coverage of an issue across platforms and broadcasts. All told, the CBS News Division under McManus won three DuPont Awards, 19 Emmy Awards, four Peabody Awards and 29 RTDNA/Edward R. Murrow Awards. Prior to his CBS Sports tenure, he was Senior Vice President of U.S. Television Sales and Programming for Trans World International, the television division of International Management Group, the world's largest sports marketing firm (1987-96).
Before that, McManus was Vice President, Program Planning and Development at NBC Sports (1982-87), becoming the youngest vice president in the history of the network at the age of 27. He was responsible for all programming and was instrumental in the rights negotiations for the Olympics, the NFL, Wimbledon, the Breeders' Cup, the Orange Bowl, auto racing and NCAA college basketball. McManus joined NBC Sports in 1979 as an associate producer assigned to the NFL, Wimbledon, the PGA TOUR, "Sportsworld," auto racing and the Tour de France.
McManus began his career in 1977 at ABC Sports as a production assistant and associate producer. In 2010, he was inducted into the Broadcasting & Cable Hall of Fame.
McManus is the son of the late legendary sports broadcaster Jim McKay. He was graduated cum laude from Duke University in 1977 with a degree in English and history.