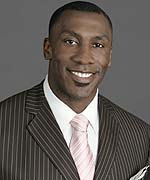 SHANNON SHARPE
Analyst
THE NFL TODAY
Former Denver Broncos tight end Shannon Sharpe joined CBS Sports in May 2004 as a studio analyst for the CBS Television Network's NFL pre-game show, THE NFL TODAY.
Sharpe, whose career spanned 14 years, 12 seasons with the Broncos and two with the Baltimore Ravens, is second all-time in the NFL in yards gained (10,060) by a tight end, and the NFLís second all-time leader in receptions (815) and in touchdowns (62) by a tight end. He was eclipsed in both in 2007 by Kansas City Chiefs Tony Gonzalez. Sharpe also is the NFL's leader in 50-catch seasons (11) by a tight end. He was voted to eight Pro Bowls (1992-98, 2001), as well as to the NFL's first All-Decade Team for the 1990s. Sharpe is one of only five tight ends in NFL history to post more than one 1,000-yard receiving season (1994, 1,010 yards; 1996, 1,062 yards; 1997, 1,107 yards) and one of four to amass 6,000 receiving yards. He produced 19 career 100-yard games and a then-Denver Broncos franchise-record seven straight 50-catch seasons (1992-98), during which he was selected for seven straight Pro Bowls.
A three-time Super Bowl champion, back-to-back with the Broncos in 1997 and 1998 and with the Ravens in 2000, Sharpe shares the NFL record for most receptions in a post-season contest (13) with Kellen Winslow (1981), Thurman Thomas (1989) and Chad Morton (2000). He holds the NFL post-season record for longest reception, a 96-yard catch and run for a touchdown in the 2000 AFC Championship Game. He played in 12 post-season contests as a Bronco, all starts, and ranks No. 2 in franchise playoff history in receptions (47) and No. 3 in receiving yards (505).
Sharpe entered the NFL out of Savannah State in 1990 as the Broncos' seventh-round selection (192nd overall). In 2009 he was inducted into the Savannah State Hall of Fame and will be honored by the Denver Broncos with induction in to their "Ring of Fame." Sharpe was born June 26, 1968, in Chicago and lives in Glennville, Ga.