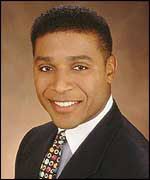 SPENCER TILLMAN
CBS Sports COLLEGE FOOTBALL TODAY Analyst
Spencer Tillman joined CBS Sports in 1999 as lead studio analyst for COLLEGE FOOTBALL TODAY, the CBS Television Network's pre-game studio show. Tillman, who had served as WABC-TV's sports anchor in New York from 1997 to 1999 and spent 10 years as a sports anchor for KPRC-TV Houston, is paired with Tim Brando at the COLLEGE FOOTBALL TODAY desk.
He served four years as a reporter for the Network's NCAA tournament coverage and is an anchor for regional broadcasts on Fox Sports Net. He also served as host of "NFL Sunday Ticket."
After being drafted by the Houston Oilers in 1987, Tillman worked as an anchor and reporter at KPRC-TV during the seven-month off-season. He played for the Oilers for two seasons (1987-88) before being traded to the San Francisco 49ers for three seasons (1989-91). He served as the 49ers' captain in 1990. In 1992, he was traded back to Houston, where he completed his playing career (1992-94). His football and broadcasting careers developed in tandem as he hosted two radio sports-talk shows and was a reporter and anchor for a radio PM magazine in Oklahoma City prior to his television jobs.
Tillman was an All-America running back for Oklahoma University (1982-86) and was the captain of the 1985 National Championship team that defeated Penn State, 25-10, in the Orange Bowl.
He received several awards during his playing career, including UPI Player of the Year in the Big Eight Conference in 1982, Big Eight Football Newcomer of the Year in 1983 and MVP of the 1987 Orange Bowl. He placed fifth in the Heisman Trophy voting in 1983.
Tillman earned a bachelor's degree in journalism in 1986 and a bachelor's degree in communications in 1988 from Oklahoma University. He was born April 21, 1964, in Tulsa, Okla., and lives in Sugarland, Texas, with his wife, Rita, and their three daughters, Alisa, Blair and Mir.