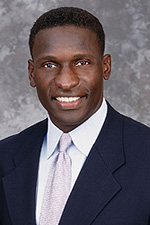 SOLOMON WILCOTS
Analyst
THE NFL ON CBS
Former Cincinnati Bengal, Minnesota Viking and Pittsburgh Steeler defensive back Solomon Wilcots joined CBS Sports in March 2001 as a game analyst on THE NFL ON CBS. Wilcots also served as a reporter for the Network's coverage of Super
Bowl XLI and XLIV (2007 and 2010), as well as the NCAA Men's Basketball Championship for three years (2003-2005). He currently is co-host of Sirius Satellite Radio's daily NFL show "The Sirius Blitz" with co-host Adam Schein. Wilcots is also an analyst on the NFL Network's NFL Total Access show. In addition he serves as weekly contributor as a columnist for NFL.com. This season will mark Wilcots' fifth as an analyst for the New Orleans Saints preseason broadcasts.
Wilcots joined CBS Sports after working for ESPN as a reporter for its coverage of the NFL, where he received an Emmy Award in 2000 for live reporting. Before ESPN, he served as the weekend sports anchor for WLWT-TV in Cincinnati (1994-2003). In addition, Wilcots also worked as studio anchor for Fox Sports Net's college football show.
Wilcots played four seasons with the Bengals (1987-1990), one with the Vikings (1991) and finished his six-year career with the Steelers (1992).
Drafted in 1987 as an eighth-round pick, Wilcots started two years at cornerback for Colorado, earning All-Big Eight honors in his senior year. He also was a team captain and majored in English literature.
Wilcots was born Oct. 9, 1964 in Los Angeles and resides in Cincinnati.