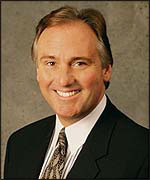 TIM BRANDO
Play-by-Play Announcer, NCAA Tournament
September 2011
Tim Brando is in his 16th year as play-by-play announcer for CBS Sports as part of the NCAA Division I Men's Basketball Championship coverage. Brando also serves as the host of COLLEGE FOOTBALL TODAY, the Network's pre-game and studio show. He has called play-by-play for the CBS Television Network's coverage of the NFL and also serves as host of AT THE HALF, CBS Sports' college basketball halftime studio show.
Brando called play-by-play for CBS Sports' college football coverage in 1997. In addition, Brando is the lead play-by-play announcer for ACC "Sunday Night Basketball" on Fox Sports Network. He provides commentary for Raycom's coverage of SEC and ACC basketball broadcasts and hosts the "Tim Brando Show" every afternoon on Sporting News Radio.
Brando has called play-by-play for SEC football and basketball games and SportSouth television's coverage of the NBA's Atlanta Hawks and MLB's Atlanta Braves. He has called more than 25 different sports during his career. Brando was studio host for "SportsCenter," ESPN's college football halftime show (1986-94) and ESPN's coverage of the NCAA Men's Basketball Championship (1987-90). He served as play-by-play announcer for TNT during the 1994 NBA Playoffs. Brando was sports director for WAFB-TV in Baton Rouge, La. and the voice of LSU basketball games (1981-86).
In 2009, Brando received the Jake Wade Award from the College Sports Information Directors of America, given annually for contributions in sports of the values of Intercollegiate Athletics.
He graduated from Northeast Louisiana in 1978 with a degree in radio/television management. Brando was born Feb. 27, 1956, in Shreveport, La. and resides in his hometown, with his wife, Terri, and two daughters, Tiffany and Tara.