2013 NCAA Tournament: Twitter previews the title game
Louisville and Michigan will play for the national title on Monday, and we collected 140-character previews (from Twitter and the Georgia Dome) of the biggest storylines to watch for in the Cardinals-Wolverines matchup.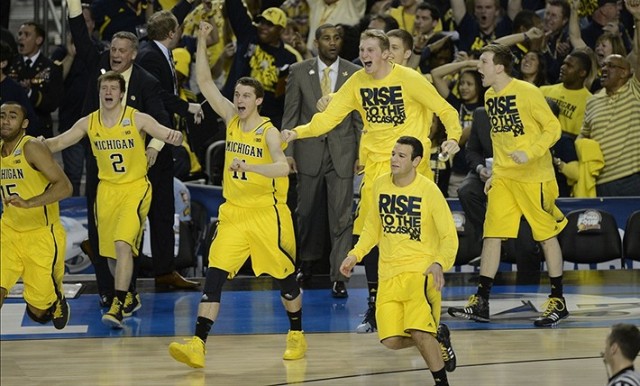 ATLANTA-- How would you sum up Louisville vs. Michigan in a sentence?
What's the biggest storyline in Monday's national title game?
When in doubt, ask Twitter.
In 140 characters or less, here are some of our favorite tweets previewing the Cardinals-Wolverines championship game.
"Right game at right time. 2 teams peaking that play up-tempo basketball. Should be one of the best finals in a long, long time." -Jim Nantz

— Tim Cary (@TimCary) April 8, 2013
If Pitino vs. Beilein 2013 is as good as Pitino vs. Beilein 2005, Monday is going to be a whole lot of fun.

— Thomas Beisner (@thomasbeisner) April 7, 2013
"I picked the Cards from the beginning and haven't wavered all year. Speed. Experience. Hall of Fame coach." -@goodmancbs.

— CBSSports.com (@CBSSports) April 8, 2013
This is the first Big East/Big Ten title game in 24 years. Hard to believe given how successful those leagues have been.

— Brian Otskey (@botskey) April 7, 2013
"Spike Albrecht? Spike Albrecht." –Michigan's Jon Horford.

— Tim Cary (@TimCary) April 8, 2013
So, who's calling the timeout to lose it all Monday for Michigan?

— Russell Payne (@Coach_Payne) April 7, 2013
Hardaway and Burke vs. Siva and Smith #BackCourtBattling #ThankYouBasketballGods

— Jake Salter (@JakeSalter3) April 7, 2013
"Beilein's brilliant offense vs. Pitino's nasty defense. And I have no idea who has the edge." –@greggdoyelcbs.

— CBSSports.com (@CBSSports) April 8, 2013
"Potential for a close game...this has the capacity to be every bit as good as a game as the ones we saw Saturday night." -Greg Gumbel

— Tim Cary (@TimCary) April 8, 2013
Beilein said he used to buy Rick Pitino's coaching tapes years ago...obviously, he means on Betamax.

— Rod Beard (@detnewsRodBeard) April 7, 2013
"Best offense, best defense. Trey Burke vs the press. Pitino win = could make the case as perhaps best coach in the country." -@jeffborzello

— CBSSports.com (@CBSSports) April 8, 2013
It's the University of Louisville's world for the next 24 hours.

— Richard Deitsch (@richarddeitsch) April 8, 2013
Show Comments
Hide Comments
Shareef picked Arizona over UCLA, USC, LSU and others

Stephen Curry, Damian Lillard, C.J. McCollum and Ian Clark didn't come from college powerhouses,...

The four-year player at VCU will try and make the Colts as a tight end
Letting teams open on a Friday in football season has never made sense

College basketball's season could start earlier

Allen will enter his senior season as the most famous college basketball player in years