2014 big man Payton Dastrup brings inside-outside game
Payton Dastrup is one of the most difficult big men to matchup with in the class of 2014, because of his ability to knock down shots from the perimeter. A long list of schools are interested.
• 1 min read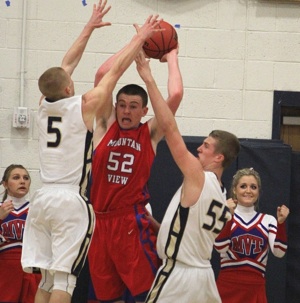 Payton Dastrup's perimeter shooting touch makes him a difficult matchup for most opponents. (AFN)
LAS VEGAS – At 6-foot-9 with excellent touch, 2014 prospect Payton Dastrup is known more as a finesse big man than one who can bang with opponents in the paint.
As a result, his battle with Jahlil Okafor – arguably the best low-post prospect regardless of class – was undoubtedly intriguing. Dastrup's Arizona Select team took the loss, but he was able to get his own shot and didn't get dominated defensively.
"I took all the time I needed to prepare," Dastrup said. "I need to work on my footspeed and back to the basket moves to catch up [with Okafor]."
For now, Dastrup's ability to step out and knock down shots creates numerous matchup problems for opponents, while he is also highly effective along the baseline and in the mid-range area. He is also not afraid of contact and can finish at the rim.
Most of the Pac-12 is interested, along with Utah State Aggies , Brigham Young Cougars , UC Davis Aggies , Kansas Jayhawks , Oklahoma Sooners , Texas Tech Red Raiders , Oklahoma State Cowboys , Michigan Wolverines , Virginia Cavaliers , Florida Gators , Boston College Eagles and Georgetown Hoyas .
While Utah Utes , Southern California Trojans and Stanford Cardinal are coming at him hard, Arizona State Sun Devils and Arizona Wildcats – the in-state schools – are making the most progress so far.
"I'm more familiar with their campuses," Dastrup said.
The Mountain View (Ariz.) product is ranked No. 36 in the class of 2014.
Buddy Boeheim was so impressive at Peach Jam that Gonzaga offered; others showing interest

The truths and myths about the push for 2018's No. 1 recruit to play college hoops a year...

Here are the under-the-radar players who will have breakout seasons in 2017-18
Duke coach says sometimes troubled guard played hurt last season, adding, 'I'm really proud...

Michigan, Marquette, California, LSU and VCU are also in the 34th annual field

The expected rise of Missouri figures to be a storyline once they start playing for real