AAU coach identifies Duke as leader for Okafor/Jones package deal
Tyus Jones repeatedly insisted, when I talked to him last month, that he and Jahlil Okafor aren't leaning any particular way in regard to making a college decision. And that might've been true at the time. But Okafor's AAU coach, on Friday, publicly established Duke as the leader for the supposed package deal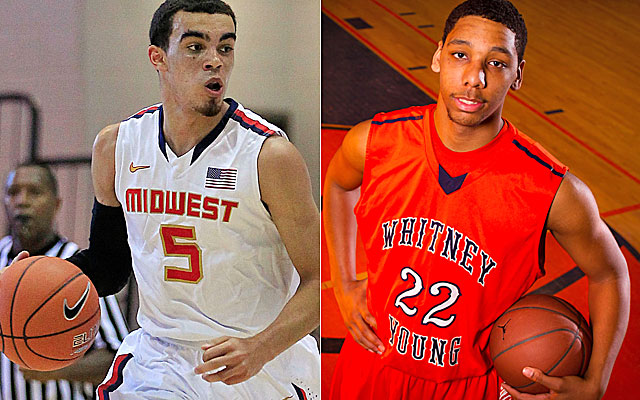 Tyus Jones repeatedly insisted, when I talked to him last month, that he and Jahlil Okafor aren't leaning any particular way in regard to making a college decision. And that might've been true at the time. But Okafor's AAU coach, on Friday, publicly established Duke as the leader for the supposed package deal.
"I believe there is a great chance that Tyus will go to Duke," said Mac Irvin Fire coach Mike Irvin, according to the @BlueDevils Twitter account. "If so, Jahlil and Tyus will probably be going to school together."
So congratulations, Mike Krzyzewski.
You are, at least according to someone close to Okafor, on the verge of securing what could reasonably be labeled as the best package deal in college basketball history. Okafor, a 6-foot-10 post player from Chicago, is the consensus top-ranked prospect in the Class of 2014. Jones, a 6-foot-1 point guard from suburban Minneapolis, is a consensus top-five prospect, one ranked as high as second by some scouting services. They've long sworn they'll become the first set of consensus top-five recruits who are unrelated and from different states to commit together, and now one of their coaches is on record stating that Duke is the school he believes they'll pick, meaning the Blue Devils just might end Kentucky's string of top-rated recruiting classes.
Show Comments
Hide Comments
Our Latest Stories
Louisville visits the Smith Center on Wednesday night for one of the biggest games of the...

There are still at least five guys who could end up winning

The Blue Devils have won seven straight, but their four-game stretch to close to the season...
Kentucky is No. 12 and Florida No. 14 in Wednesday's updated Top 25 (and 1).

UConn has won seven of its last eight, but can the Huskies ride this streak to the NCAA To...

The No. 11 Wildcats don't assert themselves against the also-ran Tigers until the final eight...