Afternoon Delight: Butler upsets No. 1 Indiana
Saturday might have seen the game of the year so far, when Butler knocked off No. 1 Indiana in overtime. What else happened?
• 5 min read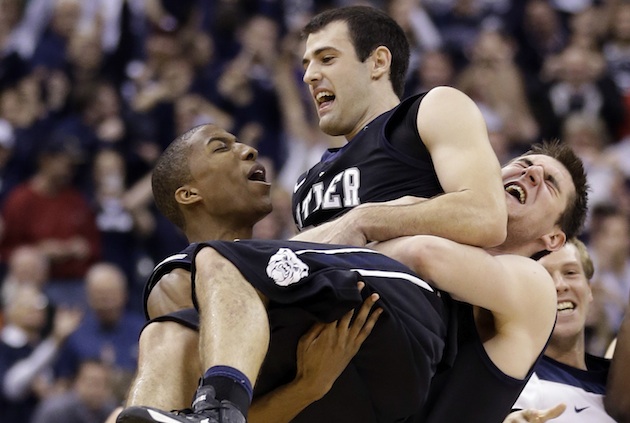 Butler walk-on Alex Barlow was the unlikely source of a game-winning shot against No. 1 Indiana. (AP)
On busier Saturdays and Sundays this season, we're not going to make you wait until the end of the slate of games to catch up with all that's happened. Afternoon Delight (3-pointers in flight!) recaps the first six-or-so hours' worth of action, the perfecta appetizer right before dinner.
The best we've seen so far:  Butler Bulldogs plays spoiler again, knocks off No. 1 Indiana Hoosiers .
Good to see Butler's move to the Atlantic 10 hasn't slowed down its ability to pull off upsets -- even if this was its first time beating a top-ranked team. The Bulldogs overcame two starters fouling out to take down No. 1 Indiana in overtime, 88-86. Walk-on Alex Barlow made a leaner in the lane with 2.4 seconds left to give Butler the victory. Butler looked like it would win in regulation, but Yogi Ferrell knocked down a 3 to tie it up -- and with Roosevelt Jones and Andrew Smith both fouling out in regulation, Indiana should have had the edge in overtime. That didn't happen. Rotnei Clarke led the way with 19 points for Butler, while Victor Oladipo had 18 for Indiana. Matt Norlander has some fine words about the significance of this win.
The second-best we've seen so far: Louisville Cardinals makes up double-digit deficit, beats Memphis Tigers on the road.
When Memphis is playing together, it has the talent to beat anyone in the country. Saturday looked that way for about 30 minutes. Memphis jumped out to a 16-point lead in the first half, and held a double-digit lead in the second half. Then Louisville hit three straight 3-pointers, Memphis couldn't take care of the ball -- and the Cardinals continued to get to the free-throw line. Couple of things worth noting from this game: Russ Smith left the game with a sprained ankle, but he returned to the game. Also, Memphis is now 0-10 against ranked teams since Josh Pastner took over as the head coach. With all the talent the Tigers have, that shouldn't happen. Right now, there's not another ranked team on Memphis' schedule.
Deserving of a free dinner at the restaurant of their choice: VCU steamrolled Alabama Crimson Tide .
It's not just beating Alabama that gives VCU a spot in this category. After all, the Crimson Tide have a couple injuries, and aren't an SEC contender. With that said, VCU absolutely ran Alabama out of the building from the opening tip. It wasn't close. It was 26-7 with fewer than five minutes remaining in the first half, and it never got better for Alabama. VCU forced turnovers, hit 3-pointers, and didn't make anything easy for the Tide. This win -- final score: 73-54 -- is yet another sign that the Rams could be the team to beat in the A-10 (even with Butler's win).
No soup for you: Virginia Tech Hokies loses at home to Georgia Southern Eagles .
Virginia Tech had plenty of momentum during the first month of the season, starting off 7-0. Now, the Hokies have lost two of three -- including a bad loss on Saturday to 4-5 Georgia Southern. The Eagles never trailed, beating an ACC team for the first time. C.J. Reed went for 22 points, including 16 in the second half. Georgia Southern led by as many as 15 points in the second half, before Virginia Tech made a late run. This loss puts the Hokies in perspective a little bit. They were not as good as we made them out to be during the hot start -- but they will still win more games than expected in the ACC.
Afternoon all-stars
Before fouling out,

Roosevelt Jones

had 16 points, 12 rebounds and seven assists for Butler. Jones is a Bulldog in every sense of the word.

Cole Darling

helped

Wright State Raiders

go on the road and beat

Hofstra Pride

, compiling 25 points and nine rebounds.

Kentucky Wildcats

's

Kyle Wiltjer

had a great effort off the bench against

Lipscomb Bison

, going for 23 points and 12 rebounds in the win.
I know Virginia Tech lost, but

Erick Green

still shot well -- and had 28 points, seven rebounds and four assists. All-American? 
Other daytime action worth your attention
No. 7

Ohio State Buckeyes

seems to be developing a more versatile offensive attack, with four Buckeyes scoring in double-figures in a 90-72 win over

UNC-Asheville Bulldogs

.

Sam Thompson

continues to work toward being a consistent performer.

Greg Whittington

finally broke out of his slump, going for 25 points and 12 rebounds to lead the Hoyas to a 13-point win over

Western Carolina Catamounts

.
No

DeAndre Kane

, no upset for

Marshall Thundering Herd

. The Thundering Herd hosted No. 11

Cincinnati Bearcats

, and hung tough for a half -- but simply didn't have the pieces to hang with the Bearcats. Cincinnati moved to 10-0 with the 72-56 win.

East Carolina Pirates

scored 61 points in the second half against

North Carolina Tar Heels

. The Pirates still lost by six, but where was the Tar Heels' defense? That won't fly in the ACC.

Marquette Golden Eagles

's multitude of options is going to be fascinating to watch in Big East play. Someone always steps up for the Golden Eagles. They beat

Savannah State Tigers

, 71-51.

Roy Devyn Marble

and

Mike Gesell

combined for 53 points as

Iowa Hawkeyes

beat in-state rival

Northern Iowa Panthers

, 80-73.
Under-the-radar result:

Ohio Bobcats

lost at home for the first time in 17 games, as

Winthrop Eagles

beat the Bobcats. Prior to Saturday, Winthrop hadn't beaten a Division-I opponent.
Delightful (and not-so-delightful) thoughts
-- If you missed it, the seven non-FBS football playing schools officially announced they were leaving the Big East conference.
-- West Virginia Mountaineers has a big game Saturday night against Michigan Wolverines  -- but the Mountaineers will be without Aaric Murray . He didn't make the trip to Brooklyn. 
-- That's the way Kentucky needs Ryan Harrow to play this season. Sure, it was "just" Lipscomb and Harrow had more shots (13) than points (12), but he was aggressive and tried to attack. Moreover, Archie Goodwin doesn't need to be the full-time point guard when Harrow is on the floor.
-- Illlinois-Chicago beat Eastern Michigan Eagles , 74-48. Might not catch your eye, but UIC is now 9-1 on the season – it won eight games all of last season.
-- When I first saw that Texas A&M Aggies and Oklahoma Sooners were playing on Saturday, I immediately thought that Big 12 play was beginning. Alas, that wasn't the case. Oklahoma did get a 64-54 win, though.
-- Rhode Island Rams has seemed on the verge of breaking through for several games now -- and the Rams finally got a big win, beating 8-1 SMU by 22 points.
Calipari's latest viral social media bit comes just three weeks after the Wildcats head coach...

Buddy Boeheim was so impressive at Peach Jam that Gonzaga offered; others showing interest

The truths and myths about the push for 2018's No. 1 recruit to play college hoops a year...
Here are the under-the-radar players who will have breakout seasons in 2017-18

Duke coach says sometimes troubled guard played hurt last season, adding, 'I'm really proud...

Michigan, Marquette, California, LSU and VCU are also in the 34th annual field