All eyes on the Harrisons as we wait to see what UK's players do
Will John Calipari end up with a roster without a five-star guard for the first time since the 2006-07 season? Perhaps ... if the Harrisons turn pro.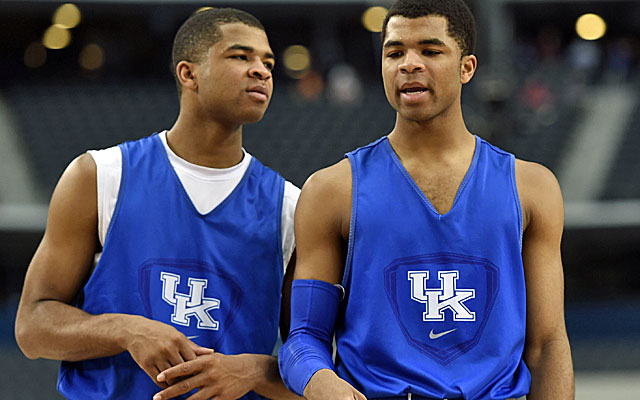 Latest in hoops: NBA Early Entries | Latest News | Coaching Changes
It's not official, and Julius Randle has gone so far as to publicly deny that he's even made a private decision about his future, but everybody I know expects the Kentucky freshman to soon announce that he's entering the 2014 NBA Draft.
So barring the biggest surprise ever, he's gone.
As he should be.
Randle will likely go in the top five and couldn't possibly fall out of the top 10. And considering the fifth pick in this draft will receive a guaranteed two-year contract worth $6.2 million while the 10th pick in this draft receives a guaranteed two-year contract worth $4.1 million, the worst imaginable scenario has Randle making more in the next two years than a normal person with an annual salary of $100,000 will earn in the next four decades, and it must be nice to be a physical specimen with talent, right?
But I digress.
My point isn't to put NBA salaries into context.
My point is to explain why Randle will not be a part of Kentucky's roster next season, and that same explanation is why James Young probably won't be a part of Kentucky's roster next season, either, i.e., because he's also on track to get rich given that the 6-foot-6 wing is a consensus top-20 pick. Then there's Willie Cauley-Stein, who will probably bolt, too. And though I think Dakari Johnson and Alex Poythress are likely to return for another season, I'm told they're at least considering jumping even if, again, I believe they'll ultimately return.
Which brings me to Andrew and Aaron Harrison.
Sources have told CBSSports.com that both are leaning toward entering the NBA Draft but that it's nowhere close to a done deal, and I really do think their decisions are the most important to Kentucky's future because, assuming Johnson, Poythress and Marcus Lee return, the Wildcats will again be loaded in the frontcourt thanks to that trio and the enrollment of five-star bigs Trey Lyles and Karl Towns.
But what about the backcourt?
What if the Harrison twins declare?
Then Kentucky could have a roster-problem, although, it should be noted, that the Wildcats' roster-problems are rarely as big as a normal program's roster-problem. It's all relative, I admit. But Kentucky could have a backcourt-roster problem relative to a typical John-Calipari-coached team if the Harrisons both leave because the Wildcats' roster would then currently project as a roster without a single guard who was a five-star prospect coming out of high school, according to the 247 Sports composite ratings.
How rare would that be for Calipari?
In a word, very.
The last time Calipari coached a team without a five-star guard was 2006-07 -- otherwise known as the season after Darius Washington left Memphis and the year before Derrick Rose enrolled at Memphis. Put another way, if the Harrisons leave Kentucky, Calipari's roster would suddenly project as one without a single guard who was a five-star prospect coming out of high school for just the second time in the past 11 seasons, and his starting lineup, barring a late addition, would probably look something like this:
G: Tyler Ulis
G: Devin Booker
F: Alex Poythress
F: Trey Lyles
C: Dakari Johnson
Karl Towns, Marcus Lee and Dominique Hawkins would be the best reserves under this scenario, and, just so we're clear, that's a roster plenty good enough to place the Wildcats in the top 10 of the CBSSports.com Ridiculously Early Preseason Top 25 (and one) rankings. In other words, there's no need to feel sorry for Calipari; he'll still have better players than most everybody else in college basketball, especially in the frontcourt.
But the backcourt?
Unless Ulis is a five-star prospect when the 247 Sports rankings update, that backcourt would be Calipari's first backcourt devoid of a five-star prospect since the 2006-07 season, which was four Final Fours ago for Calipari. That reality would create a new challenge for a coach who has enjoyed six consecutive seasons of one-and-done NBA guards.
So keep an eye on the Harrisons over the next couple of weeks.
If they return to Kentucky as sophomores, watch out.
And if they don't, well, that'll be interesting, too.
It's not an outstanding slate, but the Big Ten has good opportunities with the most interesting...

Mizzou's home court was damaged in the incident

The 2017 NBA Draft had more freshmen, and fewer seniors, taken in the first round than ever...
A scandal at New Mexico leads to a rarity for the NCAA Tournament selection committee

These two Hall of Fame coaches have been in the crosshairs of NCAA justice in recent years

Will Kentucky have more than two players taken in the first round of the NBA Draft?