Around the country: Badgers are good, not great
Doug Gottlieb goes around the country and offers his thoughts on the latest developments in college basketball.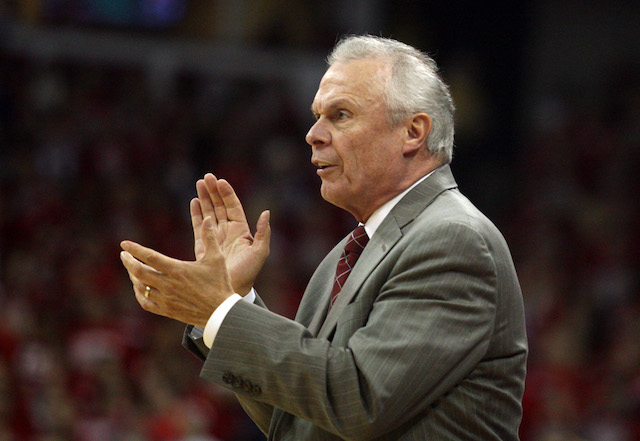 Wisconsin, now sitting at 16-0 heading into Tuesday night's date with Indiana, is very skilled.
"But you didn't say 'great.'"
No, no I didn't.
The 16-0 record doesn't tell me a whole lot. Wisconsin played a depleted Florida team early in the year at the Kohl Center (death to visiting teams). There are some other decent wins, like Virginia in the Big Ten/ACC challenge, but remember UVA struggled early too. The win over Saint Louis in Cancun was about styles, as Wisconsin wants to play pack defense and force you to make shots over the top, something SLU, for all its talent, does not do well. I'm not going to get into the controversial Iowa game.
Everyone of consequence on the Wisconsin roster is a returning player (except Nigel Hayes who was a nice addition), and there's no doubt that has helped against any opponent that has relied on youth, which has been many of them. Playing college basketball is a very big step up in level of intensity, skill and thinking, and it is at this point of the season when guys are starting to see things slow down. Scouting reports are easier to digest, and players get into the rhythm of the game sooner.
Also Wisconsin is a system team, and once you have been in the system, you have learned where the shots will come from and honed the skills needed to succeed in the system.
On the other hand, the Badgers can really shoot the ball at every position, the players know their roles and 6-7 Sam Dekker -- despite being a natural swingman, is a beast at the 4. Dekker would get in trouble last year because he wouldn't guard anyone, but now he guards the lesser of the two posts so the Badgers' interior weakness hasn't really been exposed.
Can Wisconsin win the Big Ten?  It should, as the Badgers do not have to travel to Ohio State or Michigan State. Does that make them the pick to win the Big Ten tournament, or mean they're really the best team in the league? I do not believe so as they are too reliant on being a jump- shooting team.
What's wrong with Illinois?
Despite its back-to-back losses to Wisconsin and Northwestern, the answer is "nothing."
The reality is John Groce has done a terrific job with a moderately talented team, leading them to a 13-2 start before the hiccups of this past week. Guard and Drake transfer Rayvonte Rice was a superstar in the Missouri Valley, and he's a very good player in the Big Ten after losing 25 pounds or so during his transfer year. The Illini have another ex-Valley player, Jon Ekey (Illinois State) at the 4. Ekey is a good-shooting big, but he is limited compared to the league's other face-up 4 men.
Illinois hasn't gotten great point guard play from competitive Tracy Abrams, who is not a true point nor a good shooter) and his backup Jaylon Tate is a non -scorer so defenses will sag off them.
Swingman Joseph Bertrand and big man Nnanna Egwu have improved their shooting, but that is kind of all they do. Eventually Maverick Morgan should be a good post and maybe give them 15-20 minutes off the bench, but that might not be until next year.
All of that said, I actually appreciate how hard this team plays and how effective they have been up unto this point, though I believe conference teams may pick them a part a bit as happened last week.
No timeouts for Heels, but is time running out?
North Carolina's 57-45 loss to Syracuse on Saturday took just 1 hour, 40 minutes to play out, a big reason for the duration being that the Tar Heels did not call a single timeout. I have only seen that once before, in a Wichita State game at Missouri State during Gregg Marshall's first year with the Shockers, which ended in an hour and 41 minutes and with a WSU loss.
Anyway, why is Carolina (10-6, 0-3 in the ACC) so bad? They cannot shoot at all and the return of guard Leslie McDonald may have screwed up their chemistry a bit. The biggest thing, of course, is P.J. Hairston is so badly needed and the team doesn't have the shooting to function correctly without him.
Louisville can still win The American
After seeing Louisville in person I have come to the conclusion that while its offense is quite clunky, and the defense has some holes, the Cardinals can still win the AAC. Some of that has to do with the league, since some of the teams at the bottom can't compete and the teams at the top are good, but far from great. U of L should be glad it's not in the ACC or the old Big East.
In Sunday's win over SMU, Louisville started Luke Hancock at the 4 and Wayne Blackshear at the 3. Hancock shot it great, but he struggles to guard anyone, and Blackshear is kind of a non- factor. Russ Smith remains, well, Russ Smith, making three great plays followed by a bad shot, turnover or foul.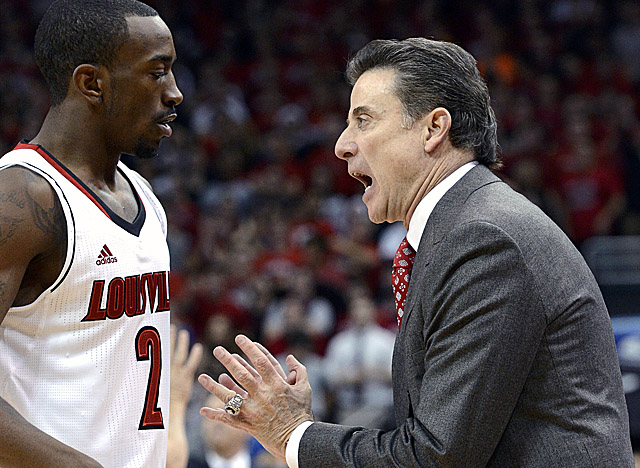 Chris Jones left the game with what looked like a hip flexor pull and was limited in effectiveness anyway. Montrezl Harrell played really well and very hard for the most part, but they do not have a big man who can pass like Gorgui Deng nor do they have a creative point guard -- their two guards are scorers.
Several scouting reports I have seen had Louisville finishing over 90% of their half court sets ending in a ball screen. Defend the ball screen, then block out the big man running to the bucket after setting the screen, and you have a chance to beat the Cards. Louisville is not as good of a zone team this year, nor do they have enough passing, but if Blackshear can get it going, that would give them four scorers who can press to cover some of their weaknesses.
Not sold on the Jayhawks yet
Kansas looked the part of a champion on Saturday, dismantling K-State in at Allen Fieldhouse, but let's be honest, the sun rises in the east, sets in the west, and KU owns K-State. Some of KU's ownership with teams like K-State is matchup driven. K-State's Marcus Foster is a tremendous freshman from Dallas, but he likes to turn the corner off ball screens and KU marginalized him by shrinking the court against them with its length.
Worried about Oregon, impressed with Cal
The Ducks were swept at home by Cal and Stanford, so what is the matter with an Oregon team that has lost three straight since a 13-0 start? Oregon has several issues that will limit them in league play especially.
Dana Altman's club is not long inside or on ball screen defense. In fact they are a poor ball screen defensive team and Cal ate them up in the second half. Teams are switching all their ball screen action and the Ducks' new pieces either do not know the counters or are simply settling for jump shots and quick post-ups. With Justin Cobbs in attack mode for Cal, Oregon was completely lost.
Forward Mike Moser is exactly what he was at UNLV, and still shows why Ben Howland wasn't enamored of him at UCLA. Moser is thin and a poor defender whether playing the 3 or the 4, and though he is effective on offense, he isn't nearly as good at the 3 on offense.
Guard Dominic Artis hasn't really improved to the level I thought he would. Artis was a scoring point coming out of high school, a perfect fit for the Johnny Orr-style pinwheel motion that Oregon runs, but he can't contain the ball and struggles to get a step on defenders. Artis was hurt last year, and set back this year by the nine-game suspension, but at some point it might be time to admit he's not the all-Pac- 12 guard I thought he would be.
Meanwhile, what got into Cal?
The Bears are without two starters, but Cobbs has been the best player in the league over his last three road games, all wins over Stanford, Oregon and Oregon State. Cobbs has been helped by freshman guard Jordan Mathews, and Jeff Powers offered a surprise bonus off the bench by hitting four treys versus Oregon State.
If you haven't seen Cal healthy, keep in mind that Richard Solomon didn't play the last two-and-a-half games in Maui, and he is probably the second-best big man in the conference -- not prospect, but man.
The Bears should get Jabari Bird back soon, and Ricky Kreklow is still a couple of weeks out, but the issue with Cal will still be that they do not have much depth inside. If Cal has Solomon and David Kravish on the floor, it can beat anyone in the league, but when either are out, that is a problem.
Is Washington for real?
Washington had one of the eye-opening results of the weekend, moving to 3-1 in the Pac-12 with a 71-54 win over a Colorado team that lost star Spencer Dinwiddie to a knee injury in the first half.
Getting forward Desmond Simmons back healthy was a huge upgrade for the Huskies, who were getting torched defensively at the 4 spot. Additionally, UW has backed its defense off a ton.
Nigel Williams-Goss is a nice player, but he simply did not have the foot speed that Lorenzo Romar's previous guards have had and the defense was suffering .Everyone was attacking Williams-Goss off the bounce.
C.J. Wilcox continues to impress with his willingness to be more than just a shooter, but he is still a very good shooter, with 17 threes in four conference games. Washington is better than expected and has some depth, but big man Perris Blackwell seems to struggle finishing over length, and combined with Williams-Goss' foot speed issues could hold the Huskies back in the long run.
Wolf Pack emerging
The hottest team in the Mountain West is Nevada? Yes Nevada, the no-defense playing, stepped into-a-league-that-was-really-good-last-year-and-were-annihilated, Wolf Pack. So what changed from a pre-conference slate when they were 5-8, to being 4-0 in league play?
First, center AJ West is eligible. West has had a convoluted journey to Reno but was granted an NCAA waiver to play in December. Nevada was awful on the defensive interior before he became eligible and now they are tolerable in that area. Add in guard Deonte Burton taking better shots and UTEP transfer Michael Perez handling the ball and taking some pressure off Burton and the Pack have stabilized. Nevada is well-coached on offense, and if it can defend better should continue to ascend. The Wolf Pack may not be true league title contenders, but David Carter can stop thinking about new addresses.
New Mexico (3-0 in the MW) is hot on Nevada's heels, and it will be interesting to watch the Lobos take on UNLV Wednesday night in a game I'll call for CBS Sports Network. The Lobos won a tight one at the Pit last year, but this is a different Rebels team, one that has sputtered to a 1-2 start in league play. UNLV has been competitive with everyone, but given up big runs in the second half of losses to Illinois, Arizona State and Nevada. The Rebels have really struggled with scoring guards, which bodes well for returning conference player of the year Kendall Williams.
The big question for the Lobos -- when will they start demanding that Alex Kirk score down low? He shoots too many threes and the team is not nearly as locked in on defense as they were this time last year.
Show Comments
Hide Comments
The former five-star recruit has not yet hired an agent

Shareef picked Arizona over UCLA, USC, LSU and others

Stephen Curry, Damian Lillard, C.J. McCollum and Ian Clark didn't come from college powerhouses,...
The four-year player at VCU will try and make the Colts as a tight end

Letting teams open on a Friday in football season has never made sense

College basketball's season could start earlier