Atlantic 10 favorite VCU finally has a target on its back
Shaka Smart and VCU have never been picked higher than third in preseason conference polls -- this time, the Rams are the heavy favorite to win the league.
• 3 min read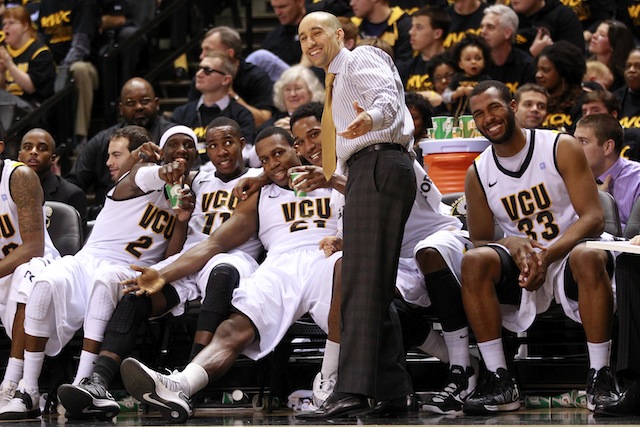 NEW YORK -- The tables are turning for the annual upset special.
Since Shaka Smart took over at VCU four seasons ago, the Rams have won 111 games, made three NCAA tournament appearances and reached a Final Four back in 2011.
Yet they have never been the conference favorite, being projected to finish third in each of Smart's four seasons at the helm.
That all changes this season.
VCU enters the 2013-14 campaign as the heavy favorite in the Atlantic 10, garnering 19 of the 24 first-place votes in the coaches poll that was released on Tuesday.
"It says a lot about our returning players that we were picked first," Smart said at Atlantic 10 media day. "I don't think it really changes much in terms of our approach. We want to make sure we're the hunter. Being picked first, there are going to be some people coming after us."
It wasn't supposed to be easy sledding last year, but "Havoc" carried over from the CAA to the A-10 without much of a hiccup. The Rams went 27-9 overall, finishing second in the league and receiving a No. 5 seed in the NCAA tournament.
Most of the weapons are back from that team, but Smart does face some obstacles as the season approaches.
The backcourt of Darius Theus and Troy Daniels is gone, and the loss of Theus will be felt immediately. Besides being the starting point guard for the past two seasons, Theus was one of the best defenders in the conference -- and more importantly, he was the Rams' leader on and off the floor.
Fortunately, Smart is used to this problem. When he first arrived at VCU, Eric Maynor was wrapping up his career and Smart had to turn to Joey Rodriguez. And after two years, Rodriguez had used up his eligibility.
"After Joey graduated, everyone said, 'Well, what are you going to do without Joey?'" Smart said. "Someone told me that Darius Theus was the worst guard in the CAA. But he had a great junior year and a great senior year. He was really our heart and soul."
Much of the responsibility to replace Theus will fall on junior Briante Weber, one of the more exciting players in the country. He has been a sparkplug off the bench the last two years, igniting VCU's pressure defense and getting the Rams' transition game operating at a high level. Weber led the nation in steal percentage in both 2012 and 2013, but this year he will need to bring consistency and avoid the risky reach-in fouls he committed too often a year ago.
Of course, he has to do that without losing any of the intensity that makes him so effective.
"He's going to be a different type of point guard than Darius," Smart said. "He's very, very energetic and enthusiastic, and those are things we encourage and promote in our program. The guy never stops; he's like the Energizer Bunny. That's a huge part of it. We want more guys that have the physical and mental attributes that he has. But he has to get better, too. There are a lot of things to work on."
Smart also mentioned the possibility of playing senior Rob Brandenberg at the point guard spot. He has played off the ball during his career at VCU, providing double-figure scoring from the wing. But Smart said the Rams have been using him as the primary ball-handler in practice and he likes what he's been seeing.
The rest of the team remains mostly intact. Juvonte Reddic is arguably the best NBA prospect in the conference, while fellow all-conference selection Treveon Graham does a little bit of everything. Sophomore Melvin Johnson and redshirt freshman Jordan Burgess will provide perimeter punch, in addition to Brandenberg. Florida State transfer Terrance Shannon could be a missing piece down low against some of the bigger teams across the country.
Talent and depth won't be a question; but will they be able to deal with the target on their back?
"Even though we were new to the league [last year], there were certain places we went where people wanted to knock us off, people wanted go after us," Smart said. "We faced it to some extent last year, and hopefully this year we face it even more."
The pieces are there for VCU to win the Atlantic 10 and once again pose a threat in the NCAA tournament -- but this time, the expectations are there, too. 
Show Comments
Hide Comments
Our Latest Stories
It's not just crunch time for the NCAA Tournament -- it is time for NBA prospects to shine

The player who threw the punch remains suspended, while the victim is still out as he reco...

Duke is at Miami and Kansas faces a let-down situation on Saturday.
Tom Izzo's Spartans are looking to secure a profile-boosting victory over Wisconsin on Sun...

Florida puts its nine-game win streak on the line in a difficult road game at Rupp Arena on...

SMU's 10-game winning streak is on the line as it travels to UConn to face a hungry Huskies...