Auburn's Bruce Pearl lands top junior college guard T.J. Dunans
T.J. Dunans, who averaged 22.5 ppg, 8.2 rpg and 4.4 apg in junior college and is considered the nation's top JUCO guard, adds to Bruce Pearl's haul at Auburn.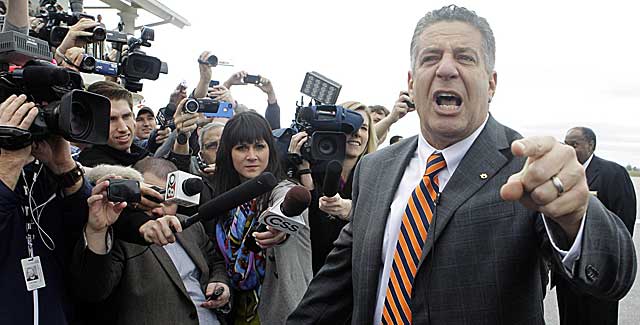 Bruce Pearl's hot streak continues.
Fresh off his NCAA-imposed show-cause penalty, the new Auburn coach received a commitment from 2015 junior college guard T.J. Dunans from Columbia State (Tenn.) Community College. On Sunday, Pearl got a commitment from four-star power forward Horace Spencer.
The 6-foot-5 Dunans (22.5 ppg, 8.2 rpg, 4.4 apg) is considered the nation's top junior college guard.
The Tigers also received a commitment over the weekend from 6-7 small forward Danjel Purifoy, another Top 100 prospect in the Class of of 2015.
Dunans likely will start for Auburn, along with Marshall transfer Kareem Canty, in 2015-16.
More Auburn signing news: Pearl lands Four-Star forward Spencer
Show Comments
Hide Comments
Our Latest Stories
The Cavaliers used social media Thursday to show support for the 49ers quarterback

The Buckeyes couldn't get a player to dress up, so it was Matta to the rescue

Pressure and criticism forced Neal to transfer from the team his dad coaches
The Mountaineers and Panthers will revive their longstanding series in 2017

A private basketball court, a barbershop, flat screens on every floor, elevated showers and...

Every major team, every big matchup -- and plenty you didn't even know about.