Best in College Sports: Coach Izzo big reason for Spartans' success
Ask anyone in East Lansing, an alumnus of the university or someone who knows college sports well: Michigan State is a football school. Yet Tom Izzo remains the face of Spartans athletics.
• 4 min read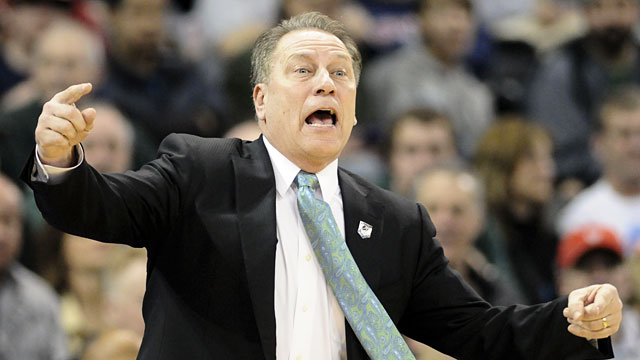 Ask anyone in East Lansing, an alumnus of the university or someone who knows college sports well: Michigan State is a football school.
Yet Tom Izzo remains the face of Spartans athletics.
And now Sparty has arguably the most innovative athletic director, Mark Hollis, running the ship.
That's why it's no surprise MSU was near the top -- finishing second, in fact -- in our annual CBSSports.com Best in College Sports Award. The school has grown into an athletic power beyond the two revenue-driving sports.
Michigan State totaled 524 points thanks to its performances in football (Rose Bowl win, 11-1 season), women's basketball (23-10, No. 5 seed, reached Round of 32), men's basketball (29-9, No. 4 seed, reached Elite Eight), baseball (31-26) and its best wild-card sport (men's soccer, reached Elite Eight and set a program record in earning 14 wins) in 2013-14.
It has taken over a decade, but MSU is now considered among the best athletic schools in the country -- across the board. Its athletic department has become a model if consistency and its teams have proven capable of winning big and graduating players. A combination of open-minded endeavors (Hollis has suggested everything from playing games on ships to football games in Europe to barnstorming the US with a four-team, three-city college hoops tour) and perfect blend of coaches that know how to recruit the area, and nationally, has led to a new era in East Lansing.
Izzo said he remembered when it wasn't like this at all.
"There hasn't been the consistency that we're getting to now," he said by phone. "I think our president, athletic director and the board deserve the credit for it. It's not always athletics vs. academics. It's athletics with academics. But my AD deserves so much credit for it in the last seven years. I think and hope I helped hold it together when we were going through five coaches and five ADs, and the hockey program was in disarray."
No. 2 Michigan State
Category
Pts
Football
255
Men's BB
146
Women's BB
50
Baseball
0
WC (men's soccer)
73
Total
524
WC - wild card sport
Michigan State basketball had that huge year in 1979, when the team won a national title under Jud Heathcote. Magic Johnson, of course, starred on that team. But the 1980s and into the early '90s were something of a lost time for the school. Izzo has helped build MSU into a top-10 national program, and with that the athletic department has found momentum and turned itself into a first-rate operation.
Look at Suzy Merchant, who has coached for seven years in women's hoops. The Spartans have more Big Ten victories than any other school since she arrived. Merchant has averaged more than 23 wins per season and won two Big Ten titles.
"Mark's hired a great football coach, women's basketball coach, volleyball coach, a great baseball coach," Izzo said. "Mark Hollis deserves more credit than I do. He's taken everything to another level by being innovative, thinking outside the box, his promotions for the game. I think I'm prejudiced, but I think he's the best AD in the country."
Izzo has a right to be biased. It's a long-told story that the two were roommates more than 30 years ago, when Hollis was a manager for Heathcote and Izzo was a grad assistant. Izzo was best man at Hollis' wedding, as well.
"If there's one thing this guy has, it's a vision," Izzo said, adding that, "despite offers [from the NBA], it's his vision that's made a big difference in my life."
But it was Izzo who was on the hiring committee for so many of the coaches currently at Michigan State. He helped Hollis in the transition process, and that friendship helped form what has turned Michigan State into such a solid environment. The football team, coached by Mark Dantonio, went 11-1 last season, won the Big Ten and the 100th Rose Bowl. Dantonio enters his eighth season with the school having a healty chance to win the conference again, and certainly is in a great spot to finish top-three. Overall, MSU is set to be a preseason Top 25 club.
In the classroom, MSU's basketball program came in with a 980 Academic Progress Rate (which scores on a scale up to 1,000), while women's basketball had a 983 and football earned a 982. Those scores are based on 2012-13 graduation rates.
Izzo said it's about grades and on-field performance, that combination. The infrastructure at the school has been vital to this. Steve Smith, Izzo's very first recruit and longtime NBA player, has been a model in donation and giving back and setting the example.
"When you look at it, when the administration backs you, and that's what I've always said about pro sports -- there's a reason the Spurs are who they are and the Patriots are who they are -- college is the same," Izzo said. "Our president and AD put a lot into our academic support system. We've got a hell of a system in place, and I can't tell you how much Hollis has done. He's a guy who gets it."
As do others around him. Beyond basketball and football, Michigan State has become an all-around powerful sports school. The message is only reinforced when coaches like Izzo, Dantonio and Merchant are set up to stay, and win, for the long haul.
Show Comments
Hide Comments
Gary Parrish and Matt Norlander also discuss UNLV's recruiting class

The five-star big man is part of a surprise late-period recruiting coup by Marvin Menzies
It's time for random observers to stop being outraged by players' decisions

Plenty of decisions are still hanging in the air, calls that will help shape the 2017-18 s...

Once again coaches are participating in Oakland coach Greg Kampe's charity event