Big Ten: Michigan, Mich. St. play for bragging rights, one school's 1-seed
The Wolverines, with a win, should be a No. 1 seed in the NCAA Tournament.
Latest in hoops: Bracketology | Bubble Watch | Latest news & notes
So what we'll have in Indianapolis on Sunday, after three days featuring 10 games in this Big Ten tournament, is two in-state rivals playing for a championship on CBS with massive stakes on the line, not to mention bragging rights. And this is the way it should be, probably.
The preseason favorite vs. the regular-season champion.
A team trying to prove it's as good as anybody vs. a team trying to grab a No. 1 seed.
Who will win?
I couldn't begin to guess.
But what's better than spending the afternoon of Selection Sunday watching a Michigan State team that looks as good as anybody when healthy try to prevent its historical rival from joining Florida, Wichita State and Arizona as No. 1 seeds in the NCAA Tournament?
That's a rhetorical question, by the way.
Because I already know that nothing is better.
And, yes, I genuinely believe that the fourth No. 1 seed is Michigan's to grab regardless of what happens in the ACC title game because the Wolverines' body of work, with one more win over Michigan State, would be obviously superior to whatever Virginia or Duke could take to the selection committee. Michigan, with one more win over Michigan State, would have 12 top-50 RPI wins and just one loss outside of the top 100. Meanwhile, Virginia will finish with no more than six top-50 RPI wins regardless of what happens in Greensboro, and Duke will have fewer top-50 RPI wins than Michigan and more losses outside of the top 100 than Michigan even if the Blue Devils beat the Cavs by a million points.
If Michigan loses, then, yeah, we can talk.
But the Wolverines should get a No. 1 seed if they beat Michigan State.
Tipoff is at 3:30 p.m. ET.
Plan accordingly.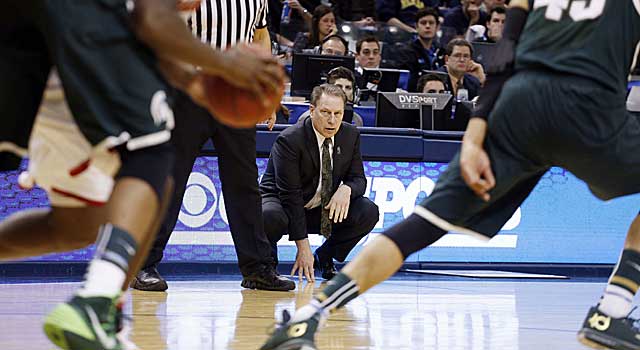 Show Comments
Hide Comments
The Tar Heels point guard was the Most Outstanding Player of the 2017 Final Four

A list of every player who is testing the waters for the 2017 NBA Draft, a record 182 guys

The MVC is looking for a school to replace Wichita State, which left for the American Athl...
Self's one of the very best, but he's changing his attack strategy to help his chances nat...

Collins is set up to be Northwestern's coach for a very long time -- if no one bigger lures...

Eight of the top nine scorers from this season's team are not returning, but UK will be fi...