Bracketology: Arkansas drops out, Mizzou back in
Missouri replaces Arkansas at the bottom of the bracket after the Hogs lose to South Carolina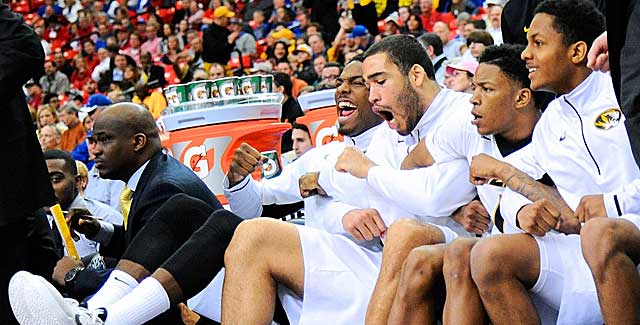 There has been some movement at the bottom of the bracket, which is not yet reflected on the bracketology page, but I will share the results here.
Arkansas is now the first team out after losing to South Carolina.  They are replaced in the bracket by Missouri, who needed double overtime to beat Texas A&M.
Also, SMU has dropped down to the first four after the Mustangs' loss to Houston in the American conference tournament.
So, the new last four in are SMU , Providence, Tennessee and Missouri .
The first four out are Arkansas, Minnesota, Cal and BYU.  Cal lost to Colorado in the Pac-12 tournament and and Minnesota beat Penn State in the Big Ten.
Show Comments
Hide Comments
Our Latest Stories
The Cavaliers used social media Thursday to show support for the 49ers quarterback

The Buckeyes couldn't get a player to dress up, so it was Matta to the rescue

Pressure and criticism forced Neal to transfer from the team his dad coaches
The Mountaineers and Panthers will revive their longstanding series in 2017

A private basketball court, a barbershop, flat screens on every floor, elevated showers and...

Every major team, every big matchup -- and plenty you didn't even know about.