Bracketology: Florida moves up to the top line
San Diego State's loss to Wyoming has opened the door for Florida to become a No. 1 seed
Ask anyone who follows Mountain West basketball and they'll tell you that trip to Laramie is a bear. This week, it was too much to bear for San Diego State, which lost to Wyoming. That loss drops the Aztecs from the top line of the bracket. Florida, coming off a tough win at Tennessee, replaces them.
You won't find a lot of dramatic movement from bracket to bracket as we go through the last month of the season. The later we get into the season, the less impact any one game will have on a team's profile. There could still be some bigger moves as teams fill significant holes in their résumés, but most moves will be smaller.
Oklahoma State is still free-falling, though. The Cowboys took a loss at Texas in their first outing without suspended star Marcus Smart. That is their fifth straight loss and there doesn't appear to be much relief in sight. OSU will have to face rival Oklahoma at home and go to Baylor before Smart returns.
The committee views suspensions much the same way it does injuries and any other roster issues. They put a little -- emphasis on little -- more weight on how a team performed with the roster they are bringing to the tournament than otherwise. That only impacts seeding, if anything. A team has to earn selection regardless of roster problems.
Also, the committee doesn't assume a team would have won a game it lost if a missing player had been there, regardless of how the game went. A loss is a loss. It's never ignored, no matter the circumstance.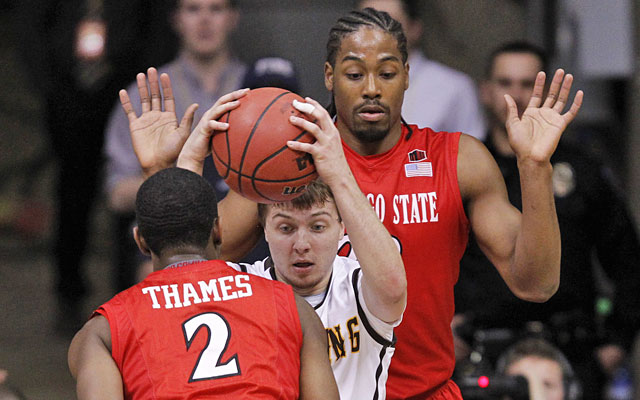 Show Comments
Hide Comments
It's time for random observers to stop being outraged by players' decisions

Plenty of decisions are still hanging in the air, calls that will help shape the 2017-18 s...

Once again coaches are participating in Oakland coach Greg Kampe's charity event
The Tar Heels point guard was the Most Outstanding Player of the 2017 Final Four

A list of every player who is testing the waters for the 2017 NBA Draft, a record 182 guys

The MVC is looking for a school to replace Wichita State, which left for the American Athl...