Bracketology: Gonzaga wins WCC again, BYU very bubbly
Gonzaga won the West Coast conference title again, leaving BYU squarely on the bubble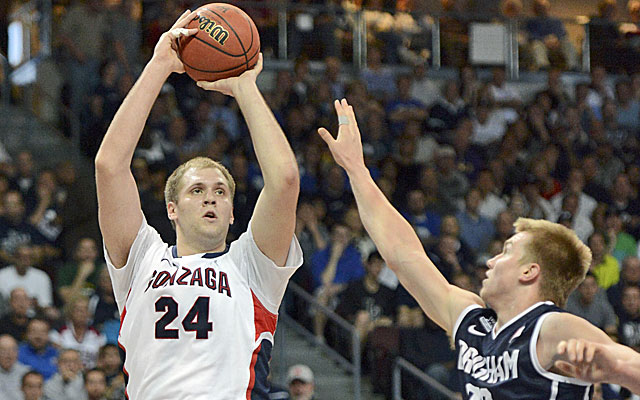 Latest in college hoops: Top 25 (and one) | Bracketology | Bubble Watch
At the risk or repeating myself, because I feel like I say this every year, Gonzaga won the West Coast Conference title over BYU on Tuesday night.  It's not actually every year.  The Zags have "only" won 11 of the last 15 championships.
That removed any doubt about the Zags' tournament worthiness, but BYU is left hanging.  The Cougars profile is sketchy.  They played a good non-conference schedule, which included wins over Texas and Stanford, but they have four bad losses and lost to Gonzaga two out of three times.
As if losing wasn't bad enough, guard Kyle Collinsworth injured his knee early in the second half and was on crutches after the game. Collinsworth is a very important player for the Cougars, but his injury will not impact BYU's chances of being selected. It could impact seeding if the Cougars are picked, depending on the severity, but teams are selected on what they did regardless of roster issues.
North Dakota State also won, coming back to beat IPFW to win the Summit title. That makes two No. 1 seeds finishing off conference tournament wins. That's been rare this season. Of the 13 tournaments in which the top seed has played at least one game, only five have survived.  Joining Gonzaga and the Bison are conference champs Wichita State and Delaware, and Boston University, which is still playing.
The loss by IPFW all but ensures that the state of Indiana will be shut out of the NCAA Tournament for just the second time since 1973. The other time was in 2005. Only Butler, Indiana, Notre Dame and Purdue are still alive, but each would have to win their respective tournaments to qualify, and that seems quite unlikely.
The deal is part of long-awaited $2.64 billion contract; CBS' hoops-only commitment runs through...

If Wichita State guard Landry Shamet has a breakout season, he could leave early for the N...

Athletic big man finished 3-day trip to Durham, N.C., with trips to USC, Arizona coming up
Calipari's latest viral social media bit comes just three weeks after the Wildcats head coach...

Buddy Boeheim was so impressive at Peach Jam that Gonzaga offered; others showing interest

The truths and myths about the push for 2018's No. 1 recruit to play college hoops a year...