Bracketology: Seton Hall knocks Villanova off the top line
No team has hurt Big East teams' tournament prospects more than Seton Hall, and today, Villanova was the victim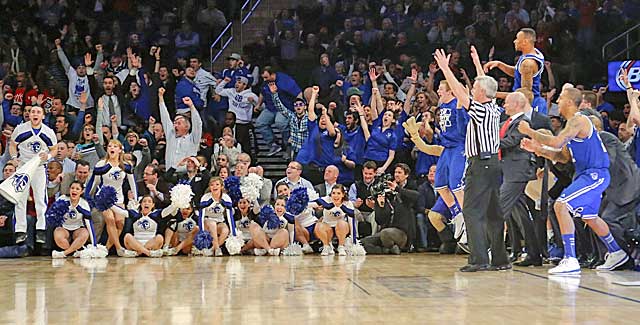 More hoops: Bracketology | Bubble Watch | Latest news
Seton Hall hasn't had a great season by any stretch, but nobody has done more damage to the tournament prospects of other Big East teams than the Pirates.
On Thursday, Villanova was the victim. Seton Hall knocked off the Wildcats on a jumper at the horn to severely damage Villanova's chances of becoming a No. 1 seed.  I have updated the bracket to put Wisconsin in that spot for now.
The Pirates swept Georgetown and Xavier in the regular season. Those losses are a big reason why the Hoyas are out of the NCAA tournament and the Musketeers are in doubt.
Thursday's win by the Hall also hurts the Providence-St. John's winner because that team will be deprived of the opportunity to get the kind of quality win that could move them into the bracket for good.
Show Comments
Hide Comments
The sophomore forward averaged 18.5 points, 12.5 rebounds and 3.1 assists this past season

On the day of the NBA Draft deadline to return It was good news, bad news for Wolverines

Diallo could be taken in the first round even though he didn't play a minute for the Wildc...
M.J. Walker, the No. 26 player in the nation, is FSU's second top-100 recruit in the Class...

Averaged 7.1 points and 5.1 boards in 14.6 minutes a game as UNC's first one-and-done since...

Musketeers get a player coming back who can be their alpha and maybe help them reach another...