Bracketology: Slew of upsets shake up bracket
It was Upset Thursday and the bracket has several changes because of it.
Bracketology: Updated projections | Bubble Watch | Team vs. team comparison
It was a tough day for teams in the top part of the bracket, so there was some shuffling all around.
The biggest impact game was Arkansas Razorbacks  win at Kentucky Wildcats . That's a huge win for the Hogs' tournament résumé and brought them up out of the First Four. Now, Arkansas gets a couple home games, where it is really comfortable. The Razorbacks can't let up now.
The Wildcats dropped a line as a result of the loss.
Also getting a big win was Oregon Ducks , which won at UCLA Bruins . That's the first win over a sure tournament team for the Ducks, so they filled a big hole in their profile. Of course, it took the Bruins' top two guys being suspended and double OT, but it looks like a line drive in the box score.
The biggest upset of the night was at Saint Louis Billikens , where the Billikens had their 19-game winning streak snapped in a loss to Duquesne Dukes . Maybe SLU got caught looking ahead to this weekend's trip to Richmond to play VCU, but that's a pretty bad loss. Saint Louis dropped a seed in this bracket.
Ohio State Buckeyes and Iowa Hawkeyes also fell a line after dropping conference road games to non-contenders. The Buckeyes lost again to Penn State Nittany Lions , giving the Nittany Lions a sweep of the season series. The Hawkeyes lost at Indiana Hoosiers in a game that was rescheduled from last week. That was the third loss in six days for Iowa.
Memphis Tigers took a bad loss as well, falling at Houston Cougars . The Tigers are 4-6 against the top 100 teams of the RPI, but at least they could say they didn't have a loss outside the top 50.  They can't say that any more. Memphis is down a spot to a No. 7 seed.
Texas Longhorns , Oklahoma Sooners and North Carolina Tar Heels all moved up a spot because of other teams dropping.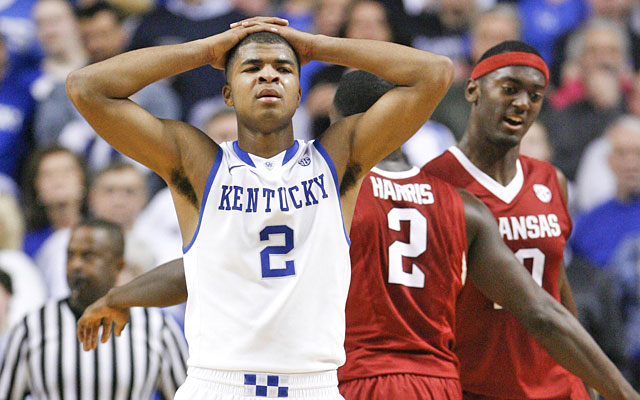 Show Comments
Hide Comments
Once again coaches are participating in Oakland coach Greg Kampe's charity event

The Tar Heels point guard was the Most Outstanding Player of the 2017 Final Four

A list of every player who is testing the waters for the 2017 NBA Draft, a record 182 guys
The MVC is looking for a school to replace Wichita State, which left for the American Athl...

Self's one of the very best, but he's changing his attack strategy to help his chances nat...

Collins is set up to be Northwestern's coach for a very long time -- if no one bigger lures...